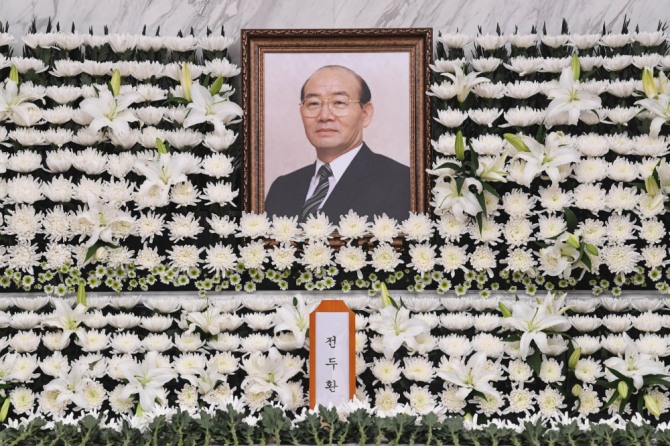 Former 11th and 12th president of Korea Chun Doo-hwan died at 90 on the 23rd.
Chun, who had chronic diseases such as being diagnosed with blood cancer in August, died at 8:40 a.m. at his home in Yeonhui-dong, Seodaemun-gu, Seoul.
Ex-president Chun reportedly collapsed at his home and was reported to police and fire station at 8:55 a.m. The police confirmed his death at 9:12 a.m.
The funeral is expected to be held at the funeral hall of Sinchon Severance Hospital.
It has been 28 days after the death of former President Roh Tae-woo, who played a crucial role in the 12.12 military coup with Chun.
Chun was born on March 6, 1931, in in Hapcheon, South Gyeongsang Province. He graduated the Korea Military Academy in 1955 and enjoyed an illustrious career as a military officer.
On October 26, 1979, Chun, who was an Army general, took charge of investigation of the murder of ex-president Park Chung-hee.
On December 12 of the same year, he staged a coup with new military groups centered on the private club called 'Hanahoe.'
Through the military rebellion, Chun gained control of Korean government. After that, he commended the martial law, and suppressed democratization movements called 'Seoul Spring' in 1980. In particular, Chun was responsible for the bloody suppression of 5.18 Gwangju Uprising.
On September 1 in 1980, he was elected as the 11th president through indirect elections of the National Council for Unification meeting and began his long-term dictatorship. The following year, he was elected as the 12th president through indirect elections by the presidential electors.
As public criticisms of the Gwangju Democratization Movement's bloody suppression increased, he declared the dedication of his property in 1988 and lived at the Baekdamsa temple. However, he did not implemente his promise to donate his property.
Chun was sentenced to death in the first trial in 1996 on charges of insurrection, murders for the coup, and bribery. However, the sentence was reduced to life imprisonment by the Supreme Court, and an additional fine of 220.5 billion won was imposed. He was released on a special parole on December 22, 1997, two years after his imprisonment.
Chun never apologized for the bloody suppression of 5.18 Gwangju Uprising until the very end.
By Global Economic Reporter Tae-jun Lee ; translate by Gounee Yang