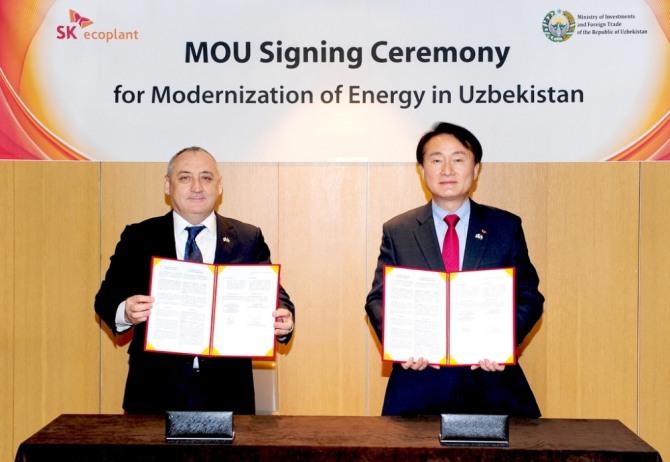 SK Ecoplant will expand its energy modernization project in Uzbekistan as part of eco-friendly business.
SK Ecoplant announced on the 29th that it has signed a MOU to modernize power plants in Uzbekistan. At the signing event, SK Ecoplant Green Innovation Business Director Kim Jin-hyun and Deputy Minister of Investment and Foreign Trade Shuhrat Bafaev attended.
This MOU partnership is aiming to transfer an eco-friendly energy business model to Uzbekistan in 5 energy areas: modernization of power plants and district heating systems, hydrogen business, and improvement of self-generation facilities.
In January, SK Ecoplant signed an exclusive contract to modernize old power plants in Muborak, 520km away from Tashkent, Uzbekistan, and to replace them with eco-friendly facilities.
SK Ecoplant said, "We have decided not only to modernize old power plants in Uzbekistan but also to expand the overall power generation infrastructure that can reduce carbon."
Under the partnership, SK Ecoplant will manage the overall project processes, including business development, financing, and equity investment. It is also planning to secure business development rights by cooperating with Korean leading state-run and private companies and financial investors.
By Global Economic Reporter Hyun-ju Han ; translate by Gounee Yang