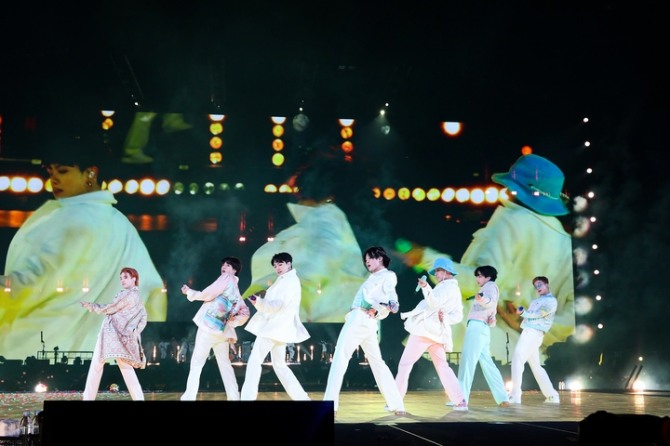 "We have finally met you again. Yesterday (27th) was like a dream, and now it is. Now I feel like we and these songs have finally found the place. We've fully enjoyed Army's shouts, heat, and what we have really seen. Hope to have another concert tonight in my dream."
K-pop group BTS met fans through the in-person concert for the first time in 2 years.
According to their agency Big Hit Music on the 30th, BTS held a 'BTS Permission to Dance on Stage – LA' tour concert at SoFi Stadium in LA, USA, from the 27th to the 28th (local time).
More than 106,000 visitors attended for the two-day performance and enjoyed with BTS.
This tour is first in-person concert in two years after BTS' last in-person concert '2019 BTS World Tour Love Yourself: Speak Yourself [The Final]' in Seoul in 2019.
The concert began with amazing performance of 'ON'. It is the title song of BTS' fourth full-length album 'Map of the Soul: 7' released in February last year. It was performed at the in-person stage for the first time since COVID-19.
BTS prepared a total of 24 songs, including 'FIRE,' 'DOPE,' 'Black Swan,' 'Blood Sweat & Tears,' 'Life Goes On,' 'Dynamite,' 'Idol,' 'Butter,' and 'Permission to Dance.'
'We are Bulletproof' and 'I'm Fine,' which were not included in the online concert held on the 24th of last month, were also added to the set list.
In the second performance on the 28th, Megan Thee Stallion, who participated in featuring the remix version of 'Butter,' appeared as a surprise guest. BTS sang 'Butter' with Stallion, making performance as amazing and special stage.
Big Hit Music said, "Tens of thousands of fans sang along BTS songs with holding 'Army Bomb (BTS's official light stick)' and enjoyed with them for about 150 minutes."
At the concert, 'Live Play in LA' event, which can enjoy the concert in real time through a separate screen, was also prepared. Global fans also watched the concert through a large screen installed on YouTube Theater, a 6,000-seat concert hall in Los Angeles.
BTS also set a new record for this performance. SoFi Stadium's programming and booking manager Christy Castillo Butcher said, "BTS has sold out all four performances for the first time in the history of SoFi Stadium. They also sold most tickets among solo bands or artists' performances held at SoFi Stadium."
BTS will continue their performances at SoFi Stadium on December 1st and 2nd. You can watch the last concert (December 2) online by purchasing a ticket from the fan commerce platform Weverse Shop.
By Global Economic Reporter Han-nah Lee ; translate by Gounee Yang