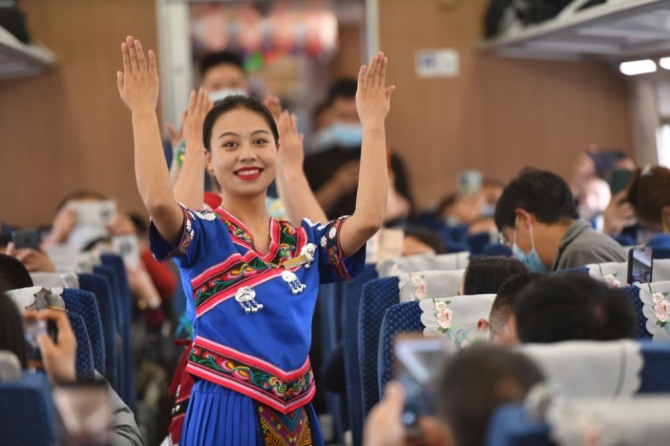 A FREIGHT train departed from Shenzhen Pinghu South Freight Station to Vientiane, capital of Laos on Friday afternoon. It was one of the first batch of China-Laos freight trains.
The Guangdong-Hong Kong-Macao Greater Bay Area (GBA) train, loaded with 35 TEUs (twenty-foot equivalent units) mainly containing household appliances and light industry products that have a market value of 7.32 million yuan (US$1.14 million) started its journey along the newly opened China-Laos Railway after it had arrived in Kunming in Yunnan Province and was scheduled to arrive at its destination tomorrow, according to Sinotrans Ltd., one of the freight's operators.
From Jan. 1, 2022, after the official implementation of RCEP (Regional Comprehensive Economic Partnership), trade between China and the ASEAN will be further strengthened. The freight trains' operation will help GBA manufacturers, especially in Shenzhen and its surrounding cities, further tap into the Southeast Asian market.
The China-Laos Railway, a landmark project of high-quality Belt and Road cooperation, started operation Friday.
The electrified passenger and freight railway runs 1,035 kilometers, including 422 kilometers in Laos, from the city of Kunming in Southwest China's Yunnan Province to Lao's capital Vientiane.
It is the first overseas railway jointly constructed and operated by the two countries, adopting Chinese standards and directly linking to China's railway network. Thanks to the railway, travel time from Kunming to Vientiane will only take about 10 hours.
This also marks China officially joining the Pan-Asian Railway Network, with GBA freight trains reaching Singapore, Malaysia and Thailand through transshipment at the Laotian capital.
The railway could potentially increase Laos' aggregate income by up to 21 percent over the long term, World Bank said in a report last year.
The section connecting Vientiane and Boten (at the northern border with China) could provide Laos with a land link to global and regional supply chains, which could make the country more attractive to investors, create new jobs and accelerate economic growth, the report said.
Many exporters will switch from road to railway transport, and transport costs through Laos could be cut by 30 to 40 percent, said Valy Vetsaphong, vice president of the Lao National Chamber of Commerce and Industry.
As an important part of the Pan-Asian Railway Network, it will serve as Laos' "golden key" to connect with China and other ASEAN countries including Thailand and Malaysia, said Xiao Qianwen, executive manager of the Laos-China Railway Co., Ltd., a joint venture based in Vientiane.
It will exert a positive impact on economic cooperation in the China-ASEAN Free Trade Area and the Greater Mekong Subregion, Xiao added.
China-Laos Railway's first passenger train, Lane Xang bullet train, carried Lao people, including teachers and students, departed Vientiane on Friday. Its first China-bound cargo train also left Friday afternoon carrying potash products manufactured by Sino-Agri International Potash Company, a China-Laos joint venture, among its cargo.
The first freight train from Kunming to Vientiane arrived in Vientiane South Station at 11:10 p.m. Saturday. The train was fully loaded with dicalcium phosphate in feed grade. A train carrying 33 refrigerated containers also left Kunming for Laos Saturday, which is the railway's first train involved in cold-chain logistics.
by Shenzhen Daily reporter Han Ximin