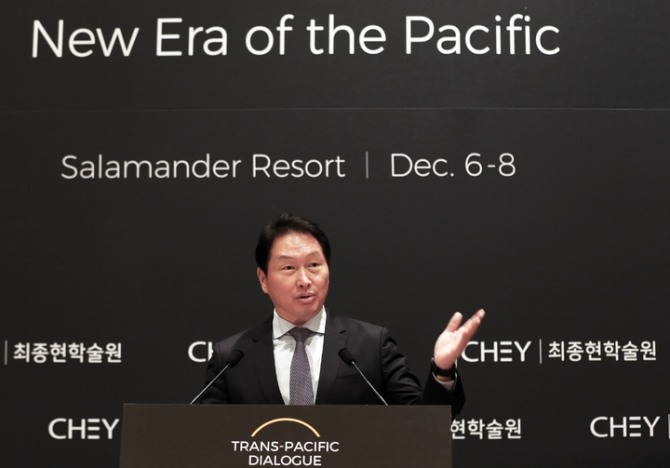 SK Group Chairman Choi Tae-won said that global problems such as global supply chain issues and environmental problems can be solved when the private and public sectors cooperate based on ESG management.
Chairman Choi, who serves as chairman of the Choi Institute for Advanced Studies, attended the '1st Transpacific Dialogue (TPD)' held by the institute in Washington, D.C. on the 6th (local time). At the dialogue, he said global problems such as geopolitical risks, global supply chain issues, and climate crisis can be solved if private companies and the public sector cooperate based on participation communities.
At a welcoming dinner for TPD, Chairman Choi said, "For 30 years since the end of the Cold War, the global society has lived with the peace and prosperity. Northeast Asia has been also called the 'Asia's Era,' and has pride that it is leading the global economic growth."
"However, as the geopolitical environment in Northeast Asia and the Indo-Pacific regions has become more complex, Korea, the U.S., and Japan, are facing many mutual challenges," said Chairman Choi. "We urgently need to resolve such global issues, including strategic competition between the U.S. and China, international disputes in the Indo-Pacific region, denuclearization of North Korea, and the global supply chain issue."
Chairman Choi suggested three solutions to this. He said, "The first solution is to use the participation community. The second is to establish an effective and long-term strategy, and the third is to create a solution that accurately reflects the geopolitical situation and risks facing Northeast Asia and resolves peacefully."
He also introduced SK Group's efforts and plans to solve global issues. Chairman Choi said, "SK's CEOs had a meeting to establish a mission related to carbon reduction last month," and that, "Our goal is to reduce 200 million tons of carbon by 2030 and this corresponds 1% of the global carbon reduction goal. To this end, SK Group will invest $40 billion in the U.S. for next 4 years to reduce carbon emission in the U.S."
The TPD, held from the 6th to the 8th, is a collective intelligence platform where global opinion leaders such as former and current political officials, researchers, and business figures gather to analyze the global issues in Pacific and Northeast Asia region and discuss solutions. Chairman Choi prepared for several years and held it for the first time this time.
Lots of U.S. political officials also attended. The U.S. senior senator Jon Ossoff (Georgia) and former Secretary of Defense Chuck Hagel attended on the first day. On the second day, Kurt Campbell, the Secretary of U.S. National Security Council Coordinator for the Indo-Pacific, and senior senator Bill Hagerty (Tennessee) will participate in.
양지혜 글로벌이코노믹 기자 tvxqhae@g-enews.com