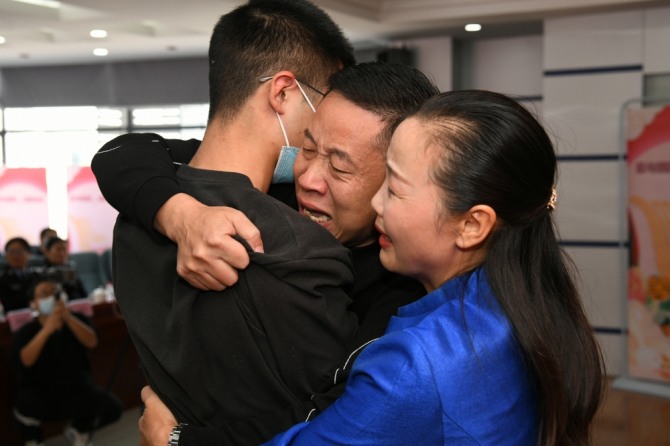 WHEN Sun Zhuo pushed the door opened, walked into the room and looked eagerly around, his father Sun Haiyang barely controlled himself and rushed to him in haste, held him in his arms firmly and cried loudly.
After 14 years of heartache and search, Sun and his wife hugged their son as tears streamed down their faces. In 2007, their toddler son was abducted outside their steamed bun store in Shenzhen. Police said he was adopted by a family in Shandong Province.
Sun's story has inspired the 2014 box-office film "Dearest" by Hong Kong director Peter Chan, based on children's abduction in China.
"I have been looking for him for more than 10 years. I have no hatred, and as a parent, I just want to know his whereabouts and how his life is going," a tearful Sun said at a reunion organized by the Ministry of Public Security in Shenzhen yesterday, according to a video released by the police.
The Suns were one of the three families who reunited with their long-lost children at yesterday's reunion after they were abducted at least 10 years ago.
According to police, nine suspects have been detained for being involved in the three cases, including the adoptive mother of Sun Zhuo and a younger brother of his adoptive father. Further investigations are going on.
Sun Zhuo, born in 2003, was abducted on the night of Oct. 9, 2007 when the then 4-year-old was playing outside Sun's store in Baishizhou urban village in Nanshan District, while Sun Haiyang was napping inside. The couple had just arrived in Shenzhen when it happened.
"My neighbor told me he saw a man in his 40s give my son a toy truck. They were happily talking together and then he took my child and walked north. My neighbor thought [the man] was my relative because my son seemed very happy with him," Sun recalled. "I realized my son might have been abducted because I have no relatives here in Shenzhen."
In the following years, Sun and his wife crisscrossed China searching for their son. They even renamed their tiny bun store the "200,000 Yuan [US$31,368] Reward For Finding My Son Store."
"On Oct. 9, 2007, my son Sun Zhuo was stolen from the front of this store," read the yellow sign that hung over pots of meat dumplings and steamed buns. "Anyone who gives me any information, even [if they are] a child trafficker, I won't hold them responsible. I will pay the 200,000-yuan reward for any news. I just want to know where my son is."
Every day, Sun received dozens and even over 100 calls claiming to provide him with clues, some of which turned out to be scams.
For years, Sun and his wife had lived in a cycle of hope and hopelessness.
In May 2019, a child was found in Hebei Province that was said to be highly identical to his son. Sun rushed to have a DNA test and was left disappointed.
Shenzhen Daily reported two stories on Sun's unremitting search for his son in 2009 and 2010.
The film "Dearest" was produced based on the real-life stories of two families, including Sun's, searching for their missing children. It was the country's first feature-length production on the grim subject.
Chinese police had located or rescued 1,737 missing or abducted children since January this year, including adults who went missing or were abducted as children, the Ministry of Public Security said June 8.
Since a nationwide campaign codenamed "Tuanyuan," meaning reunion in Chinese, was launched in January, police have resolved 91 long-pending cases involving child abduction or trafficking, the ministry said.
Likewise, a total of 236 suspects have been caught since the campaign began.
During the campaign, China's public security authorities have improved their systems and approaches, including a rapid locating mechanism for missing children and a DNA database to fight child trafficking.
Over 3,000 free blood-sampling sites have also been opened to the public recently, where missing or abducted individuals and their parents are encouraged to provide their blood samples to the police where possible.
By Shenzhen Daily reporter Han Ximin