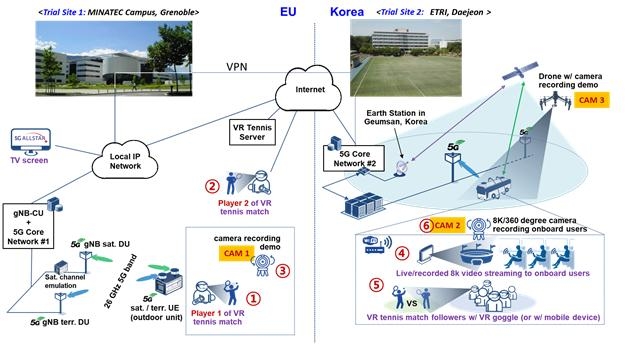 South Korean research team co-developed an infrastructure technology that can expand the 5G telecommunication service area with EU. If this technology is commercialized, uninterrupted communication services can be provided in remote areas and sea, or even in case of a disaster.
The Electronics and Telecommunications Research Institute (ETRI) announced on the 6th that it succeeded in demonstrating 5G services between ETRI and French research institute CEA-Leti (Laboratoire d`Electronique et de Technologie de l`Information) by establishing the world's first '5G-satellite multiple network system.'
The 5G-satellite multi-network system is a technology using 5G communication network and satellite communication network at the same time. If 5G and satellite communication are connected together, uninterrupted communication services can be provided by using 5G normally and using satellite network in areas where there is no base station or insufficient.
The research team succeeded in demonstrating the 5G service by connecting with CEA-Leti located in Grenoble, France, through the Korea Research Environment Open Network (KREONET). Based on the intercontinental multiple communication networks, it demonstrated various services such as 8K video streaming, VR games, and 360-degree real-time webcam. It is the first time in the world that intercontinental communication has been attempted based on the multi-network system.
by Global Economic Reporter Won-yong Lee ; Translate by Gounee Yang