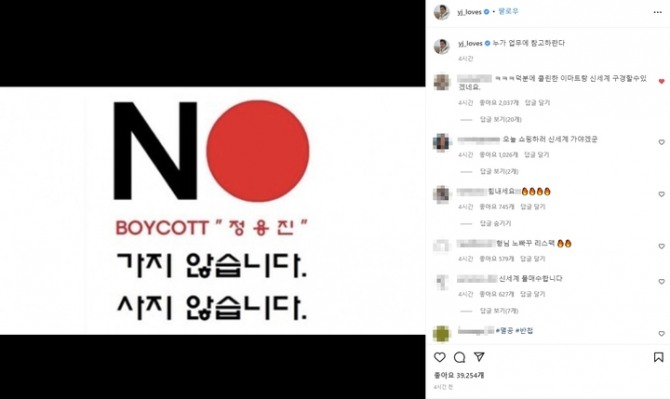 Boycott for Starbucks has emerged at the beginning of the year. On various online communities and social network services (SNS), a poster featuring 'Boycott for Chung Yong-jin, Not go, Not Buy' is being shared.
This boycott was triggered by Shinsegae Group Vice Chairman Chung Yong-jin's 'anti-communist' post on his social media. Vice Chairman Chung's post on his Instagram has been under fire, and stock prices of Shinsegae Group's affiliates have also plunged.
There are also some opinions that Starbucks, which accounts for 55% of total operating profit of Emart, where Vice Chairman Chung is the largest shareholder, should be boycotted.
As the controversy intensified, Vice Chairman Chung uploaded a post on his Instagram and said he would never mention the cold-war era's anti-communism slogan. However, this controversy continues to arise.
This is because many of politicians have mentioned about the anti-communist issue. The boycott for Starbucks is not serious yet, but if the issue has been prolonged, Starbucks may be affected by the boycott.
According to the distribution industry on the 11th, Vice Chairman Chung posted a photo of hangover relief drink on his Instagram, and said, "I will survive this year by eating this," and added the anti-communist slogan 'myeolgong,' meaning eradicating communism. He also uploaded a photo of jeotgal (salted fish) and wrote, "The first jeotgal of this year. Myeolgong."
Since then, Vice Chairman Chung's post was deleted for violation of Instagram's policy on violence and instigation. Regarding this, Vice Chairman Chung said, "My post was suddenly deleted. Why is it a violence and instigation? I will survive to the end. Myeolgong."
As Vice Chairman Chung strongly protested against the post deletion, Instagram announced that it was a system error and restored his post. After the restoration of the post, Vice Chairman Chung more actively used the slogan, 'myeolgong.'
On January 6, he also wrote a post that criticizes the government's policy toward North Korea, saying, "South Korea never protests against arrogant Chinese government." In this post, he uploaded the photo of the Chinese President Xi Jinping, and also added hash tags, 'Myeolgong,' 'Marching north for unification,' and 'Anti-communist.'
As boycott has been raised among Chinese consumers, he changed the photo to North Korean leader Kim Jong-un and said "My word 'myeolgong' is not related to China," but the controversy has not subsided.
This is because the politicians have begun to use Vice Chairman Chung's word, 'myeolgong.' Main opposition People Power Party (PPP) presidential candidate Yoon Suk Yeol and former lawmaker Na Kyung-won also posted photos of themselves purchasing 'myeolchi,' or anchovies in Korean, and 'kong,' which means beans, at the supermarket.
The 'myeolgong' issue triggered by Vice Chairman Chung affected stock prices as well.
The stock price of Shinsegae fell 17,000 won (6.8%) from the previous trading day to 233,000 won on the 10th. The stock price of Shinsegae International also decreased by 5.34% to 133,000 won. In just one day, the combined market capitalization of 220 billion won has been evaporated.
Shinsegae shareholders posted a number of complaints that Vice Chairman Chung's issue affected stock prices through related stock communities, open chat rooms, and online communities.
In addition, there are also some opinions among ruling party supporters that they should carry out the boycott for E-mart and Starbucks. A community user wrote the post titled, "If you don't drink Starbucks coffee," to explained how to participate in the boycott.
According to the post, Starbucks' operating profit accounts for 55% of E-mart's total operating profit, so if the boycott for Starbucks is carried out, Vice Chairman Chung could be affected.
by Global Economic Reporter Tae-hyung Kim ; Translate by Gounee Yang