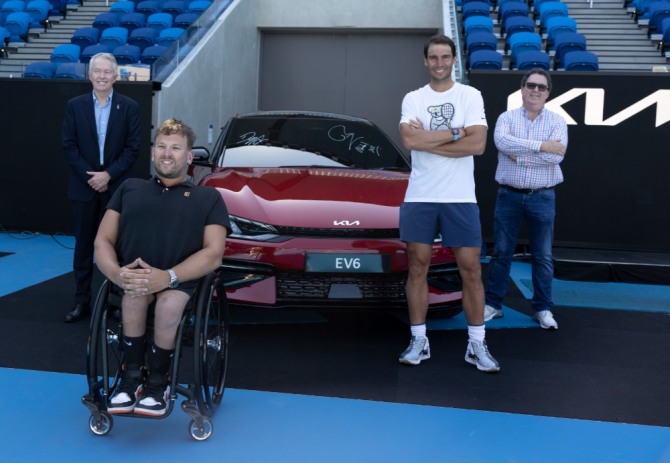 Kia, the official sponsor of the Australian Open, will begin its global marketing, starting with an official car delivery ceremony to mark the 21st anniversary of its sponsorship.
Kia held the official car delivery ceremony for the '2022 Australian Open Tennis Tournament' at Melbourne Park in Victoria, Australia, on the 12th. At the ceremony, famous tennis players, including Rafael Nadal and Dylan Alcott, attended.
A total of 130 cars, including 70 units of Sportage, 50 units of Carnival, and 10 units of EV6, were delivered at the ceremony. Those cars will be used for transporting athletes, VIPs, and event officials.
For the Australian Open, Kia will also hold a digital campaign 'Aces for Oceans' to contribute to purifying the marine environment, under its brand vision that provides sustainable mobility solutions.
'Ace For Oceans' is the digital campaign to prevent the ocean pollution caused by plastic waste and inform the importance of sustainable environment through campaign videos, SNS, and AR games during the Australian Open.
In addition, as the official sponsor of the Australian Open, Kia is also planning to conduct various marketing activities such as EV6 showrooms and digital content promotion.
In particular, it will complete the 5,000-seat stadium 'Kia Arena,' the fourth-largest stadium for the Australian Open, and unveil it to local visitors and global fans.
Kia Arena will be operated as the official stadium of the Australian Open this year, and will be used as an art, culture, and sports facility after the competition.
by Global Economic Reporter Jung-hee Kim ; Translate by Gounee Yang