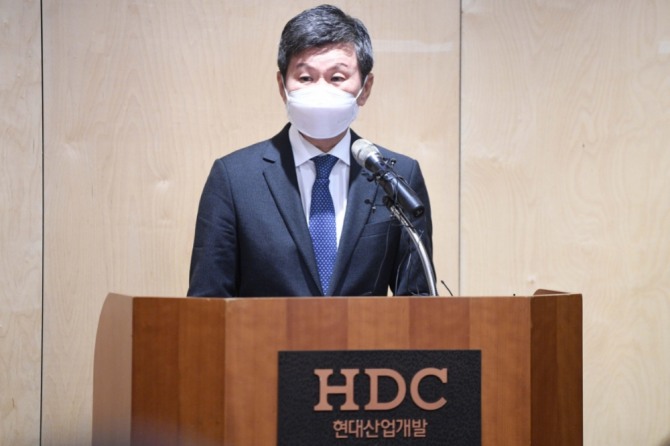 HDC Hyundai Development Chairman Chung Mong-gyu offered to resign on the 17th, 6 days after the collapse of an apartment under construction in Gwangju last week.
Chairman Chung held a press conference at HDC office in Yongsan-gu, Seoul, on the 17th, and said, "I would step down to fulfill my duty for the incident. I sincerely bow my head and deeply apologize to the family of the victims in the accident and to the public."
At the press conference, HDC CEO Yoo Byeong-gi and CEO Ha won-gi also attended.
Chairman Chung apologized for the accident occurred again as a part of the facade on the apartment building crumbled in 7 months since the demolition site collapse incident in Hakdong, Gwangju, in June 9 last year.
Chairman Chung said, "Starting with the development of Apgujeong Hyundai Apartment in 1976, HDC had been trusted and loved with i-Park brand. However, the recent two accidents in Gwangju have seriously disappointed Gwangju citizens and the public."
"I feel deep sense of responsibility that the company's trust has fallen due to a series of incidents," he said. "The company would establish and implement all measures to restore the trust from customers and people again."
Regarding the search and rescue operations, Chairman Chung said, "The company is working on operations safely by cooperating with the Gwangju city government and local organizations. We will make all-out efforts to quickly search and rescue the missing people. HDC will do our best to compensate for the damage to the victims' families, apartment owners, and stakeholders."
Chairman Chung offered to resign from the chairman of HDC and promised to strengthen the safety at construction sites nationwide through external safety assessment and management.
He said, "We will take all measures to ensure safety of people who live in Hwajeong district, Gwangju, where the incident occurred. We will conduct external safety assessment at all construction sites nationwide, and carefully check safety and quality."
Global Economic Reporter Hwan-geum Choi ; Translate by Gounee Yang