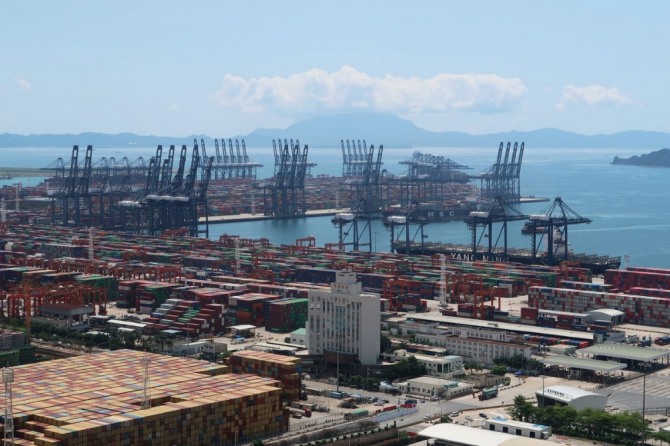 SHENZHEN'S exports of goods reached 1.92 trillion yuan (US$302 billion) in 2021, up 13.5 percent year on year, ranking first among major Chinese cities for the 29th consecutive year, statistics released by Shenzhen Customs showed yesterday.
Total foreign trade including imports reached 3.54 trillion yuan, up 16.2 percent year on year. Data showed that imports climbed up 19.5 percent to 1.62 trillion yuan.
In December, the city's foreign trade reached 385.6 billion yuan, up 25.8 percent, a single month record since April 2013 and showed positive growth for 14 months straight.
New records have also been reached for trade with RCEP (Regional Comprehensive Economic Partnership) partners, countries under the Belt and Road Initiative, and Central and Eastern European countries amounting to 935.49 billion, 775.55 billion and 62.2 billion yuan respectively.
The volume of general trade, which has higher added value and can better reflect enterprises' capabilities to develop on their own, reached 1.75 trillion yuan, up 16.9 percent compared to the previous year, accounting for 49.4 percent of the total value of Shenzhen's foreign trade.
Private enterprises contributed 2.16 trillion yuan or 60.8 percent to the city's total foreign trade last year, up 19 percent year on year. The trade of foreign-funded enterprises reached 1.18 trillion yuan, up 11.8 percent, accounting for 33.1 percent of the total trade.
In 2021, the structure of export products was further optimized, and exports of consumer electronics grew significantly.
Statistics showed that exports of mechanical and electrical products increased by 18.8 percent, reaching 1.54 trillion yuan, accounting for 80.2 percent of the total value of Shenzhen's exports last year. Among them, exports of computers and other automatic data processing devices and their spare parts, mobile phones, audio and video equipment, as well as household appliances increased by 21.9 percent to 510.49 billion yuan.
The imports of mechanical and electrical products reached 1.29 trillion yuan, up by 15.3 percent and took up 79.6 percent of the total imports.
By Shenzhen Daily reporter Han Ximin