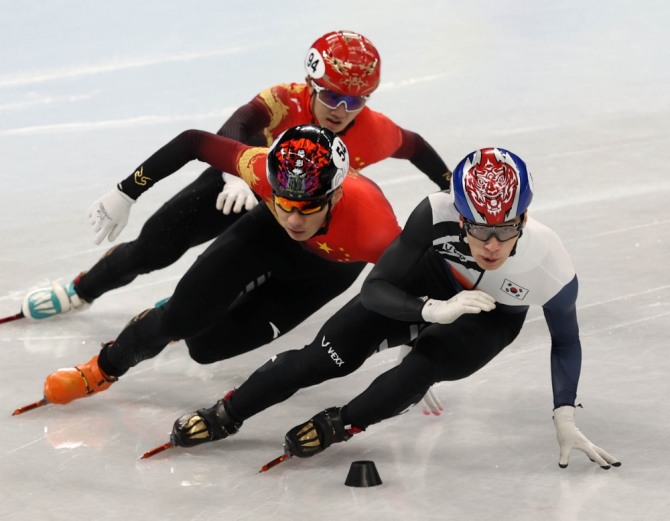 Due to the judge's unfair and biased decision to disqualify Korean short track speed skaters at the 2022 Beijing Winter Olympics, anti-Chinese sentiment has rapidly grown in Korea. Along with 'cultural appropriation' at the opening ceremony of the Olympics, public opinion on China is significantly worsening in Korea.
Some Koreans strongly protested against China on online communities, even using a disparaging expression on China. There are also some opinions to boycott Olympics if there is a biased decision or unfair disqualification in remaining short track speed skating matches.
From 8 p.m. on the 9th, the Korean short track speed skating team will have men's 1,500m, women's 1,000m, and women's 3000m relay matches at Capital Indoor Stadium in Beijing, China. Korean citizens are concerned that Korean skaters will be a victim of unfair refereeing decisions in favor of China again.
In the interview, a citizen Kim (29), who has watched short track speed skating events since 2018 Pyeongchang Winter Olympics, said, "I have watched lots of short track events but I've never seen the unfair and ridiculous loss like this Olympics. I deeply understand how the athletes are disappointing, and I don't think it is meaningful to the Olympics going on in this way."
Another citizen Jung (30) said, "There are still short track speed skating events left, but I am concerned that unfair refereeing will be repeated. If the biased and unfair decision is repeated, the anti-Chinese sentiment will explode beyond the negative public opinion."
The anti-Chinese sentiment is also rapidly emerging on Korea's online communities. A community user said, "Chine 'did China.' The Olympics should be held in 'proper' country." In addition, many comments and posts blaming China continued to be uploaded on various online communities. There are also some users who reposted photos criticizing the Beijing Olympics and said they have decided to boycott the Olympics on social network services (SNS).
Some citizens argued that the Korean government to strongly protest against China.
A citizen Ko (34) who lives in Gwanak-gu, Seoul, said, "I am worried that this unfair Olympics would affect our athletes. As they are competing at the Olympics representing Korea, the government should take action to protect them."
The Beijing Olympics have continued to cause controversies since the opening. At the opening ceremony on the 4th, a woman in hanbok, Korea's traditional clothes and original culture, appeared one of the representatives of ethnic group in China and delivered the Chinese flag.
Furthermore, Korean short track speed skater Hwang Dae-heon and Lee Joon-seo were unfairly disqualified even though they ranked first and second, respectively, in the men's 1,000m semifinals on the 7th.
by Global Economic Reporter Da-jeong Kim ; Translate by Gounee Yang