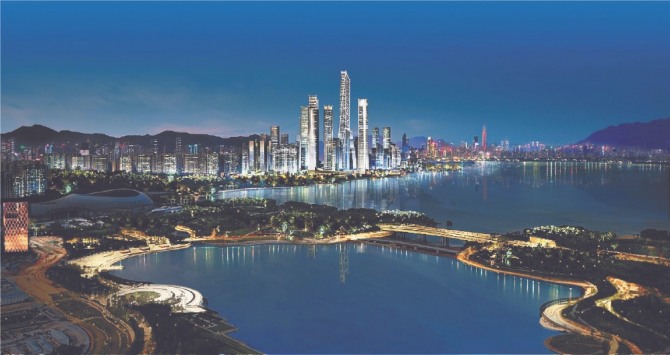 THE Shenzhen-Hong Kong Checkpoint Economic Belt should be upgraded into a State strategy and be developed at a higher level, some political advisers proposed while attending the annual meeting of the National Committee of the Chinese People's Political Consultative Conference (CPPCC).
In October last year, Hong Kong unveiled an ambitious plan to transform remote districts bordering Shenzhen into a northern metropolis. The plan aims to wrap up Yuen Long and North District at the top of the New Territories into a single, vibrant Northern Metropolis that is expected to raise 2.5 million residents in about 20 years and become home to an international innovation and technology hub.
"Building the northern metropolis needs Central Government support. Shenzhen and Hong Kong are geographically adjacent and highly integrated with each other. The two sides should create a win-win situation through cooperation," Huang Lanfa, a CPPCC political adviser, said.
Most of New Territories' northern areas are rural and ecological areas. In contrast, Shenzhen's border areas are core areas for development. The synergistic development of northern Hong Kong and southern Shenzhen will be helpful to improve the cooperation level and development quality between Shenzhen and Hong Kong.
Another CPPCC member Chen Qianwen from Shenzhen, carried out several research projects on the construction of Shenzhen-Hong Kong Checkpoint Economic Belt in 2021 and found that there are still some difficulties and challenges.
"If the construction of the border economic belt is upgraded to a State strategy, based on the checkpoints along the border, the business and industrial areas with distinctive functions, optimized structures, and complementary and synergistic development could be like Qianhai modern service cooperation zone, Shenzhen-Hong Kong science and technology innovation cooperation zone in Shenzhen River loop area, Shatoujiao Shenzhen-Hong Kong international tourism consumption zone and Luohu Checkpoint area," Chen said in the proposal.
Huang suggests the two sides speed up infrastructure construction or "hard connectivity," and regulation compliance or "soft connectivity," to improve the level of integration.
In terms of "hard connectivity," it includes the construction of cross-border railways, rebuilding Huanggang Checkpoint, planning ferry terminals in Qianhai and Meisha and landing sites for cross-border helicopters.
In terms of "soft connectivity," Huang suggests that the two sides explore regulation compliance in market access, IPR protection, business affairs, cooperation in education, health care and residents' well-being.
Political advisers also suggest supporting Shenzhen and Hong Kong in setting up a tech hub for international talents in northern metropolis.
By Shenzhen Daily reporter Han Ximin