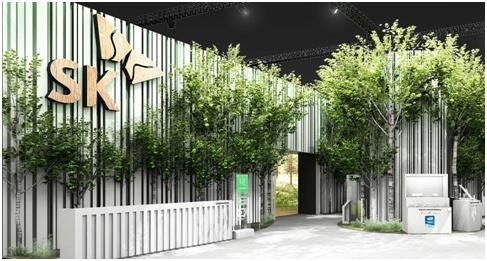 SK Group's booth was named the best exhibition of CES 2022, the world's largest electronics and IT exhibition held in Las Vegas in early January.
Exhibitor Media Group of the U.S. announced on the 21st that it conducted excellence evaluation on 2,300 companies at CES 2022, and selected SK Group's exhibition booth 'Green Forest Pavilion' as 'The Best of CES.'
Exhibitor Media Group is the U.S. largest exhibition and event company specialized in trade fairs, corporate events, and marketing education.
SK Group was selected as the company showcased the best exhibition booth in three years after participating in CES with its affiliates.
At this year's CES, SK Group's 6 affiliates, SK Inc., SK Innovation, SK E&S, SK Hynix, and SK Ecoplant, set up the joint exhibition booth at the CES under the theme of 'Accompany: SK, a companion walking on the road to zero-carbon life with you.'
Exhibitor Media Group also selected Samsung Electronics (3rd), Hyundai Heavy Industries (4th), and Hyundai Motor (7th) as top 20 best exhibitions at the CES 2022.
by Global Economic Reporter Myeong-seok Chae ; Translate by Gounee Yang