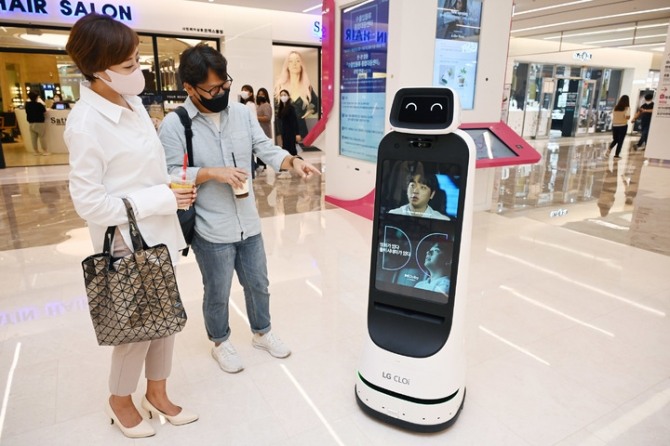 As President-elect Yoon Suk-yeol has pledged to invest in five mega-tech industries, including robots, related industries are paying attention. In particular, both Samsung and LG have declared robots as this year's new key business, making large scale investment.
The robot market is highly expected to grow rapidly in the future. The International Federation of Robotics (IFR) predicted that the robot market will grow by 32% annually to about 211 trillion won in 2025.
In particular, as President-Elect Yoon pledged to invest in artificial intelligence (AI), semiconductors and robots, bio-health, aerospace, carbon neutrality, and quantum fields as the five key mega-tech industries, the market growth is expected to further increase.
Samsung Electronics has prepared entering the robot market even before the announcement of its new business plan. Samsung previously newly established a robot commercialization TF team through reorganization in 2020, and changed its name to a 'robot business team' in 2021. Currently, Samsung Electronics' robot team is led by Vice President Jeon Kyung-bin, a Ph.D. in mechanical engineering at the Korea Advanced Institute of Science and Technology (KAIST). Vice President Jeon is known as a 'quality professional' who served as the head of Samsung Electronics' Global CS Center.
At Samsung Electronics' regular shareholders' meeting held on the 16th, Vice President and CEO Han Jong-hee officially announced Samsung's entry into the robot business. "We are looking for various new businesses to discover our future growth engine, and robot business is the first step of our challenges, vice chairman Han said. "We will study technologies in various robot areas and commercialize them to provide various consumer experiences in robot fields."
The industry expects Samsung Electronics' first robot product to be a medical robot in hospitals, not homes. It is expected that Samsung Electronics will first release a Gait Enhancing and Motivating System (GEMS) for medical staff.
GEMS is a robot that can be worn like clothes. It is worn on hip joints, knees, and ankles. GEMS Hip can reduce 24% of the metabolic cost of walking, while accelerating the speed by 14%. Samsung has acquired ISO certification for GEMS Hip's safety feature in 2020. It expects to commercialize the GEMS as early as the first half of the year.
Along with medical robots, it is also planning to mass-produce domestic robots, including Samsung Bot Care and Samsung Bot Handy. In order to commercialize products, Samsung Electronics registered the trademark 'Samsung Bot' in the U.S. and Canada in January.
LG Electronics will also focus on the robot business as its future business and provide domestic robot services. It is currently developing human resources for domestic robot business.
This month, LG Electronics hired Dennis Hong, a global robot scientist at the University of California Los Angeles (UCLA), as a business advisor. Hong was previously selected as one of the 'Ten Young Geniuses Shaking Up Science Today' by Popular Science. He is currently the head of UCLA RoMeLa Institute. Through t collaboration with Hong, LG Electronics is planning to develop an integrated robot solution that can manage all logistics processes from warehousing to delivery.
LG Electronics is steadily recruiting experts and specialists from the robot fields. LG Electronics established 'LG Boston Robotics Lab' in Boston, the U.S. in 2020, and has been developing next-generation robot technology in collaboration with MIT professor Kim Sang-bae. Last year, it also recruited Lee Hyun-chul, an AI practitioner of Amazon, as the head of the new AI research institute.
LG Electronics is currently strengthening its competitiveness in the B2B (business-to-business) market by launching robotic products such as a serving robot 'LG CLOi ServeBot,' guide robot 'LG CLOi GuideBot,' and the quarantine robot 'LG CLOi CleanBot.'
by Global Economic Reporter Myeong-seok Chae ; Translate by Gounee Yang