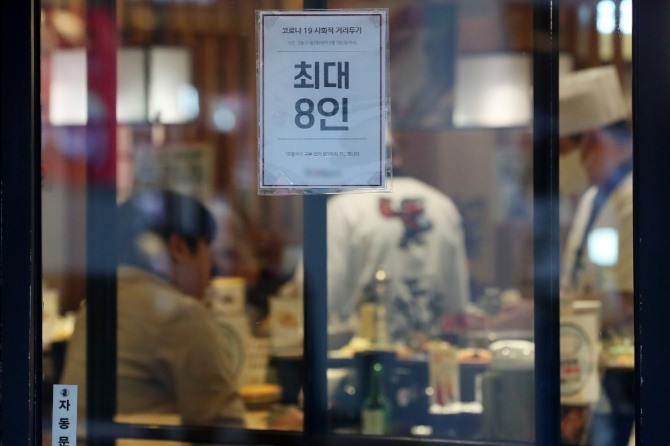 South Korea's new COVID-19 cases have shown a downward trend. The government sees the big wave of omicron variant has shifted to a downturn trend and the number of confirmed cases is also expected to gradually decrease this week.
The government plans to announce new distancing rules within this week, which will be implemented from next week. The government will discuss detailed plan to ease the social distancing rules in consideration of public opinions.
According to the Central Disease Control Headquarters on the 28th, daily new COVID-19 cases were 187,213 and cumulative 123,054 as of 0 o'clock. It has fallen below 200,000 cases in 25 days since 198,799 on the 3rd.
Compared to 209,137 on the 21st, a week ago, the number of new confirmed cases decreased 21,924. It is also 21,924 fewer than 309,778 on the 14th, two weeks ago.
1st director Kwon Deok-cheol said, "The omicron variant spread reached the peak last week and has gradually shifted to a downward trend in 11 weeks."
However, severe cases and deaths could increase two or three weeks later, and cases of 'BA.2,' so-called 'stealth omicron,' has accounted for 56.3%, so it is still at high risk of infections, he said.
Many domestic research teams predicting the COVID-19 trend said if the government maintains current quarantine policies such as 'social distancing', the daily cases will be reduced gradually.
Lee Chang-hyung, a professor of mathematical science at the Ulsan Institute of Science and Technology (UNIST), said in a report on the 23rd that if the current policy effect is reflected, new cases could reach 373,741 on the 30th and 352,321 on April 6.
According to the modeling data by Choi Sun-hwa, an analyst at the Industrial Mathematical Innovation Center, the number of new cases will decrease to 293,754 on April 6 and 186,437 on April 20.
The current social distancing policy that limits the number of private gatherings to eight and multi-purpose facilities' opening hours until 11 p.m. will end April 2.
The government said, it will consider easing distancing rules in consideration of quarantine status and medical system after the confirmed cases have reached the peak. Depending on this week's trend, the government is expected to adjust quarantine regulations.
It is expected to make a decision at a plenary session on April 1 after a meeting of the COVID-19 Daily Recovery Committee and collecting opinions from local governments and ministries.
by Global Economic Reporter Tae-hyung Kim ; Translate by Gounee Yang