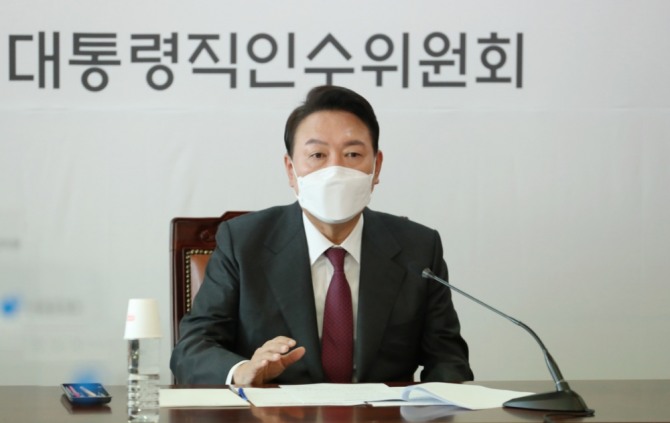 Experts related to China, Japan, economic security, and South Korea-U.S. joint drill have joined President-elect Yoon Suk-yeol's delegation for South Korea-US policy consultation.
According to Yoon's team on the 29th, Rep. Park Jin of people power party (PPP) will led the delegation. Park earned a master's degree in administration at Harvard University's Kennedy School, and served as chairman of the 18th National Assembly's Foreign Affairs and Trade Unification Committee. Park previously had a talkg with current U.S. President Joe Biden in August 2008, when he visited the U.S. to attend the Korea-US Diplomacy Council.
Rep. Cho Tea-yong of the PPP, who worked as a diplomat mainly in North America and served as the first vice foreign minister and head of the Office of Korean Peninsula Peace and Security Affairs, has also joined Yoon's delegation.
In particular, professor Chung Jae-ho of Faculty of Political Science and International Relations at Seoul National University and Park Chul-hee at Seoul National University's Graduate School of Political Science and Diplomacy have joined the delegation as an expert of Chinese and Japanese politics, respectively. Professor Chung earned Ph.D. degree at the University of Michigan and served as a director of the U.S.-China Relation Research Center at Seoul National University. Professor Park is a Ph.D. in political science at Columbia University and served as a secretary of the Korea-Japan Forum. Accordingly, the delegation is expected to be able to discuss various agenda, including US-China and Korea-US-Japan relations as well as Korea-China and Korea-Japan relations, with U.S. officials.
Yeon Won-ho, an economic security expert, has been included in the delegation. Yeon earned a Ph.D. in economics at New York State University and served as an economic security and diplomacy advisor of the Foreign Ministry. He is currently a chairman of economic security taskforce after working at the Korea Institute for International Economic Policy's Chinese economy department.
Pyo Se-woo, a former Defense Secretary at the Korean Embassy in the U.S., will be in charge of agenda related to the Korea-US joint military drill. Pyo graduated from the U.S. Military Academy and earned a doctorate degree in International Relations at the University of South Carolina. Pyo served as a deputy chief of staff at the ROK/US Combined Forces Command.
Kang In-sun, the president-elect's spokesperson for foreign press, has been also listed in delegation to the U.S. Kang earned a master degree at Harvard University's Kennedy School and worked as a director of the Chosun Ilbo's Washington branch and editor of foreign affairs.
The delegation is expected to have policy consultations with U.S. government and congressional officials next month to discuss the Korea-U.S. alliance and issues on North Korea, East Asia, international community and economic security.
by Global Economic Reporter Dae-min Chung ; Translate by Gounee Yang