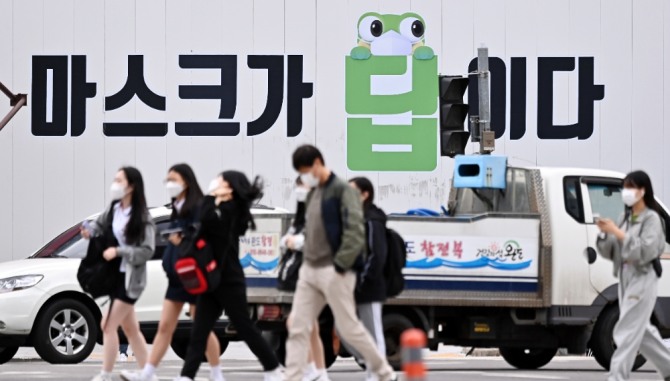 The Korea Centers for Disease Control and Prevention reported 5,568 new Covid-19 cases as of 0 o'clock on the 29th. Among them, 50,538 persons were infected within the country and 30 entered from overseas. The cumulative number of confirmed cases reached 17,194,616.
The government decided to lift outdoor mask mandate from May 2 in consideration of the recent downward trend of the virus and experts' opinion. However, wearing mask outdoor rules will be maintained when participating in gathering of more than 50 people or attending sports matches and cultural events.
Prime Minister Kim Boo-kyum held a regular Covid-19 briefing and said, "Considering that recent Covid-19 infections have declined over the past 6 weeks and people hope to recover their daily lives as soon as possible, the government will continue to ease distancing rules."
"But we strongly recommend wearing mask outdoor when it is difficult to keep distance more than 1m with Covid-19 patients or many people are gathered," he said. "Currently, it is still possible to take off the mask outdoor when keeping social distancing of more than 2m. If you keep your personal quarantine like now, the ease of quarantine restrictions will be more effective. The government will gradually ease distancing rules, but will improve the management of high-risk group such as the elderly at the same time."
The new cases on the 29th decreased by 6,896 persons from 57,464 on the previous day. It decreased by 30,475 persons compared to a week ago (April 22), and 125,824 persons from two weeks ago (April 15).
In this month, the number of new cases as of every Friday decreased from 280,242 on April 1 to 205,312 on April 8, 125,827 on April 15, and 50,568 on April 29.
By Global Economic Reporter Kim Tae-hyung ; Translate by Gounee Yang