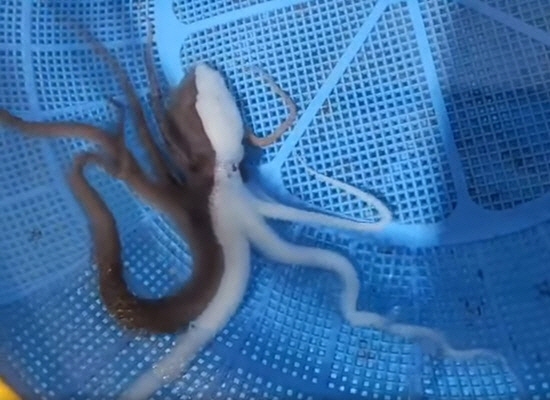 Rare albino octopus with a half white and half black body was caught in Muan, Jeollanam-do.
Mr. Jeong Ki-moon, who lives in Muan, posted a video titled "Have you ever seen this octopus?" on his SNS on the 28th. In this 9-second video, there is an albino octopus with a half of its body black and the other half white.
Jeong explained that his fisherman friend caught this octopus in waters near Sinwol-ri, Unnam-myeon, Muan-gun, on the 26th.
The friend asked to Jeong and other fishermen about the octopus, but no one has ever seen such an octopus.
"I has caught and sold octopus for 20 years and also worked at the Suhyup, but it is the first time that I has seen the half white and half black octopus," Jeong said. "I'm currently feeding it in a fishtank at the seafood warehouse, instead of selling it."
Experts said it seems to be a rare albino octopus. Albinism is a genetic disorder caused by lack of melanin pigment, resulting in white on the parts of the body or the whole body. It is different from vitiligo, an acquired pigmentary disorder, experts explained.
By Global Economic Reporter Hee-jin Ah ; Translate by Gounee Yang