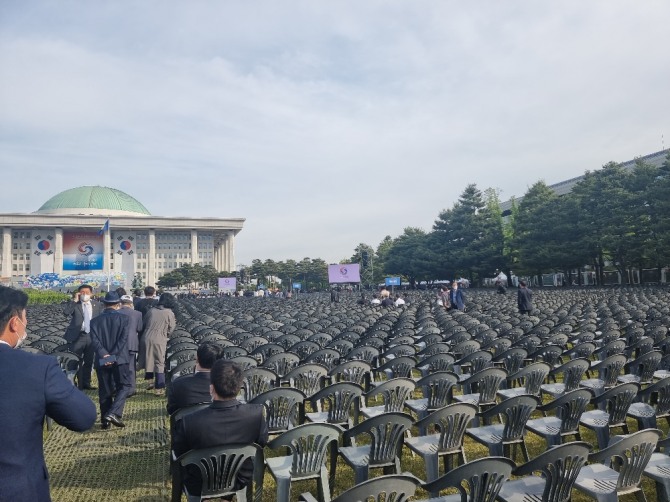 President-elect Yoon Suk-yeol will have talks with foreign officials after his inauguration on the 10th.
Yoon will meet with diplomatic envoys from various countries who have visited Korea as a congratulatory delegation.
In particular, amid growing tension over North's provocations such as the lunch of submarine-launched ballistic missile (SLBM), the new government's diplomacy with major four powers, including the U.S., China, Japan, and Russia, have become important.
After the inauguration ceremony, Yoon will meet with Douglas M. Hope, the U.S. Second Gentleman, China's Vice President Wang Qishan, and Japan's Foreign Minister Hayashi Yoshimasa one by one.
The meeting schedule has not been revealed.
Douglas M. Hope, the husband of the U.S. Vice President Kamala Harris, reportedly arrived in Korea with a delegation on the 9th.
Usually, the U.S. Secretary of State or the White House National Security Advisor attended the presidential inauguration, but it is analyzed that the U.S. has sent a white house family member this time in consideration of the upcoming Korea-U.S. summit.
Before the summit between President-elect Yoon and the U.S. President Joe Biden, the two side are expected to reaffirm the importance of the Korea-US alliance.
Vice President Wang, who will visit Seoul as a special envoy of President Xi Jinping, is the highest-level official sent by China for the inauguration.
As Vice President Wang is highly trusted by President Xi, the two sides will discuss the importance of Korea-China relations before the Korea-US summit.
In addition, Vice President Wang will reportedly deliver a message from President Xi to President-elect Yoon.
Foreign Minister Hayashi, who will attend the inauguration as special envoy of Prime Minister Fumio Kishida, is the first Japanese foreign minister visiting Korea in about 4 years since June 2018.
During a meeting with Yoon, Hayashi will deliver a letter for Kishida after the inauguration.
According to Japanese media, Prime Minister Kishida said, "Difficult challenges still exist between Korea and Japan, but we cannot leave it as it is."
In addition, former Prime Minister Yukio Hatoyam will also visit Korea and meet with Yoon on the 9th before the inauguration.
Russia will not send a delegation, and Ambassador of Russia to Korea Andrey Kulik will attend instead. It is believed because Korea-Russia relations have worsened due to Russia's invasion of Ukraine.
In addition, British Secretary of State Amanda Milling, Singapore President Halima Jacob, and Central African Republic President Faustin-Archange Touadéra will attend the inauguration ceremony. Yoon is expected to have diplomatic talks with them.
by Global Economic Reporter Dae-min Jeong ; Translate by Gounee Yang