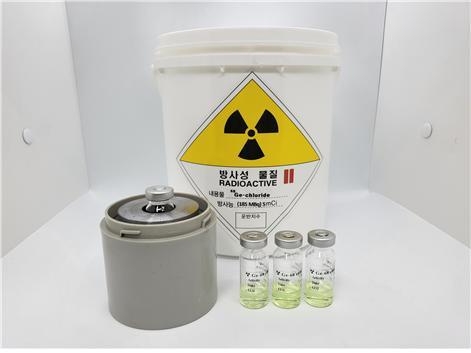 Domestically developed medical radioisotope germanium-68 (Ge-68) will be exported to the U.S.
The Korea Atomic Energy Research Institute (KAERI) said Monday that it will export Ge-68 produced by Cyclotron, its radiation research institute, to the U.S. medical device manufacturer Sanders Medical. This is the first time that Korea will supply radioactive isotopes to the U.S.
Sanders Medical is a radioisotope developer founded in 1994. It produces and supplies radioisotope products for maintenance of radiation-producing equipment to international companies.
The KAERI and Saehan, a specialized company in radioactive drugs, have completed export declaration and licensing procedures to the Nuclear Safety and Security Commission and shipped Ge-68.
This is the achievement of the research team lead by Dr. Park Jeong-hoon, Accelerator R&D and Production office of the KAERI, with the support from the science ministry.
Ge-68 is a raw material of radioisotopes for cancer diagnosis and used to maintain the accuracy of X-ray imaging devices such as positron emission tomography (PET). The half-life is also relatively long at about 270 days, so it can be transported for a long time.
Currently, technologically advanced countries such as the U.S., Russia, and Germany have dominated more than 90% of the global germanium market. With increased demand, it becomes important to secure new suppliers.
by Global Economic Reporter Tae-hyung Kim ; Translate by Gounee Yang