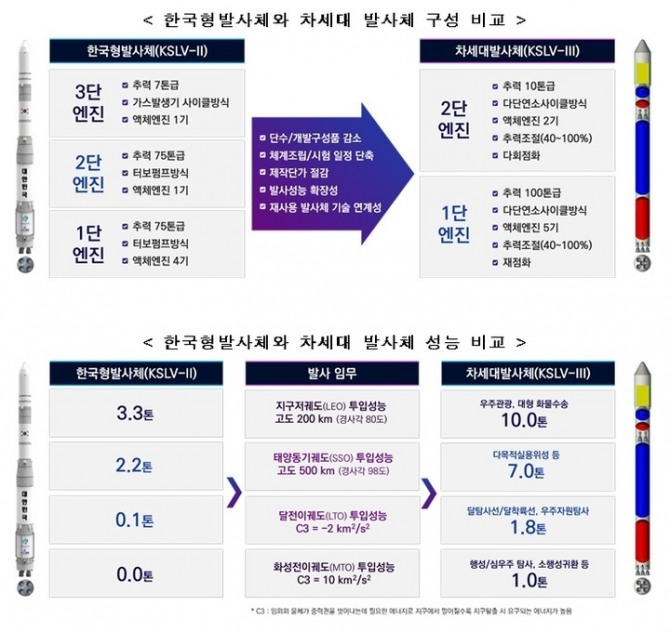 South Korean Ministry of Science and ICT said on the 9th it has launched a preliminary feasibility study for the development of space launch vehicle.
A total of 1.933 trillion won (1.919 trillion won by government and 14 billion won by private sector) will be invested in the project, a successor to the nation's first domestic rocket Nuri.
Unlike three-stage Nuri rocket, the new rocket will be developed as a liquid oxide and kerosene-based two-stage launch vehicle. Five 100-ton staged combustion cycle liquid engines will be clustered for first-stage engine and reusable launch technologies such as multi-burn and thrust vector control will be applied. Second-stage engine will consist of two staged liquid engines and multi-burn and thrust control technologies will be applied.
The new rocket is scheduled to be launched in 2030, and expected to contribute establishing a foothold for the takeoff Korea as an aerospace powerhouse.
All processes of the project will be jointly carried out by selected private company and the Korea Aerospace Research Institute (KARI). Through the joint industrial and academic research and development (R&D), the company is expected to have its own rocket development capabilities.
In addition, in order to nurture domestic aerospace companies, the government will build a supply chain only for domestically produced parts, except when part import is essential.
The science ministry plans to secure core technologies through the private-led R&Ds to for future new space era.
When the new rocket development project is completed, Korea will secure capabilities to explore moon and Mars well as Earth orbit satellites.
The science ministry will launch a lunar landing test rocket in 2030 by using the newly developed space vehicle and launch the nation's first lunar landing spacecraft in 2031.
by Global Economic Reporter Won-yong Lee ; Translate by Gounee Yang