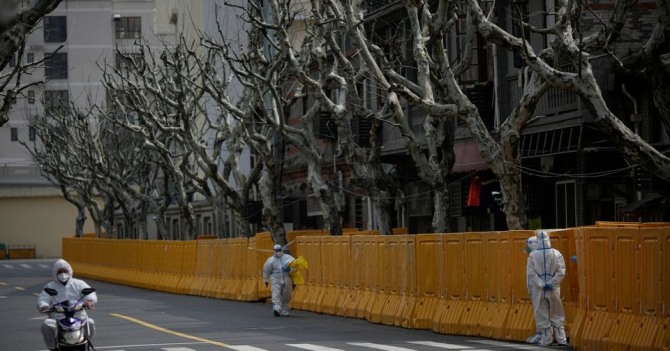 As China has imposed the lockdown measures on economic capital Shanghai for nearly 50 days to prevent COVID-19 infections, South Korean companies are also affected. Currently, companies are suffering from supply disruptions such as part shortages and operation suspension, but the prolonged lockdown is expected to hit Korean exporting companies hard due to decreased demand in China.
As of May 11, Shanghai has been under a strict city wide lockdown for 45 days since March 28. It is expected to continue for the time being as new COVID-19 cases continue to increase despite the lockdown.
Due to the lockdown, Korean companies that operate production plants in Shanghai and nearby cities have been also affected. As transportation and logistics activities have been suspended, they are suffering from raw material shortages and shipment delays. Some suspended the factory operation as employees were confirmed. According to KOTRA, some 2,500 companies are running businesses in Shanghai and nearby cities.
Even if companies continue the production, they cannot transport and ship products at ports due to the restrictions. According to the Korea International Trade Research Institute, a Korean machinery and equipment company has been stuck at Shanghai port for two months since March as the Chinese government did not allowed to transport goods. Transportation costs also increased four to five times.
Semiconductors, Korea's major export item, are significantly affected by the lockdown. Samsung Electronics and SK Hynix are currently continuing the operation of their chip plants, but they stuck in the bottleneck as production of products using semiconductors such as automobiles, smartphones, and PCs are suspended. As a result, sales are decreasing and prices are also falling. Lee Seung-woo, an analyst at Eugene Investment & Securities, said, "The decrease in DRAM prices is expected to continue in May and memory prices are also expected to fall in the second quarter."
More Korean companies may suffer from production and sales disruptions if the lockdown is imposed on other cities such as Beijing. All products such as home appliances, automobiles, displays, foods, and cosmetics as well as semiconductors are expected to be affected.
Samsung Electronics previously suffered from laptop production disruptions due to parts shortages caused by the lockdown. Hyundai Motor also suspended the production of Casper at GGM plant from April 18 to 21 due to parts supply disruptions. AmorePacific has also suspended its Shanghai cosmetic plant since May 1, so it is currently exporting products produced in Korea to China. Orion and Nongshim's Shanghai plants have also stopped.
The Hyundai Research Institute published a report on economic issues expected in the second half of 2022, and said, "Concerns over an economic downturn have continued due to prolonged Shanghai lockdowns and supply chain risks. The high inflation is also expected if the lockdown measures are imposed on other cities, including Beijing."
양지혜 글로벌이코노믹 기자 tvxqhae@g-enews.com