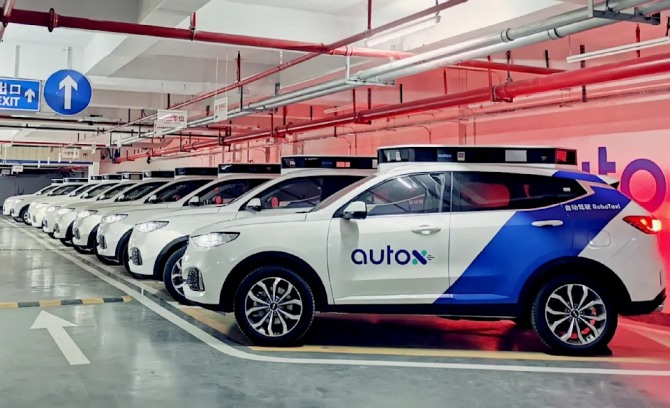 AUTOX has unveiled China's first large-scale RoboTaxi operation center network that covers 10 sites in first-tier cities, including four in Shenzhen — two in Nanshan, and the others in Futian and Pingshan.
The centers are specially built for professional-level operation and maintenance scheduling of large-scale RoboTaxi fleets, and support its ultra-high-end RoboTaxi fleet, which has now over 1,000 unmanned vehicles operating in a large area of over 1,000 square kilometers.
Accompanying this announcement, a drone video was released showing the daily operation of AutoX Pingshan's Fully Unmanned Operation Center, where it can navigate fully driverless robotic cabs on all the public roads in Pingshan District. The center, covering 168 square kilometers in service area, is currently China's largest driverless cab service area.
The six-story facility, with a total indoor area of 18,198 square meters, serves full functions including vehicle operation and maintenance, technical support and data return. It is equipped with large-scale charging piles, high-speed network, elevators and sensor calibration turntables, and it supports all-round standardized and automated operations ranging from vehicle maintenance, repair, cleaning, technical operation, calibration to testing, verification and software and hardware upgrades.
The cabs are equipped with the Gen5 system which is able to safely navigate complex urban driving situations in China using its 50 sensors and vehicle control unit packing 2,200 trillion operations per second (TOPS) of computing power. Among the cameras, 28 cameras are combined to capture a total of 220 million pixels per second, six LiDAR modules collect 15 million points per second, and a 4D RADAR system packing 0.9-degree resolution delivers a 360-degree view around the vehicle.
Since 2020, AutoX has publicly launched RoboTaxi operations in several cities like Beijing, Shanghai, Guangzhou and Shenzhen.
In January 2021, AutoX launched China's first fully driverless RoboTaxi service to offer rides to the general public without accompanying safety drivers.
By Shenzhen Daily Han Ximin