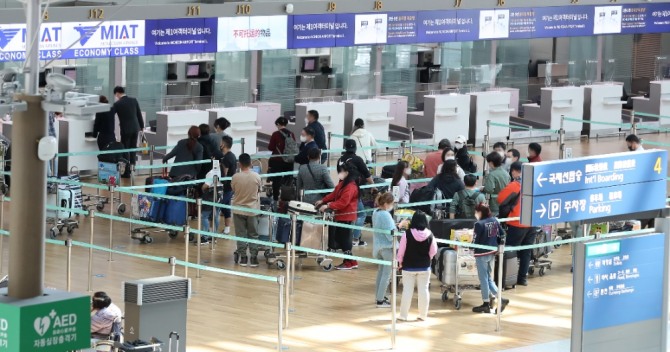 Fuel surcharges imposed on international flights of Korean Air [003490] and Asiana Airlines hit an all-time high again due to international price hikes.
As airlines increased fares due to fuel surcharges increased, the total price of air tickets that customer should pay also rose.
According to industry sources on May 16, Korean Air raised international fuel surcharges to the highest Level 19, from current Level 17, so surcharge for one-way tickets on international routes will range from 37,700-293,800 won, depending on the route.
Asiana Airlines will also apply Level 19, charging 44,400-229,600 won for one-way tickets from next month.
Level 19 is the highest level since July 2016, when companies started to levy fuel surcharge based on flight distance. It is steadily rising to Level 10 in March, Level 14 in April, Level 17 in May, and Level 19 in June.
International fuel surcharges are imposed by level when the average price of Singapore jet fuel is more than 150 cents per gallon.
The average price of jet fuel in the Singapore's commodity market from April 16 to May 15, which is the base period for fuel surcharges in June, was 335.62 cents per gallon.
Korean Air and Asiana Airlines will raise fuel surcharges for domestic flights to 17,600 won from current 14,300 won.
by Global Economic Reporter Yeon-don Choi ; Translate by Gounee Yang