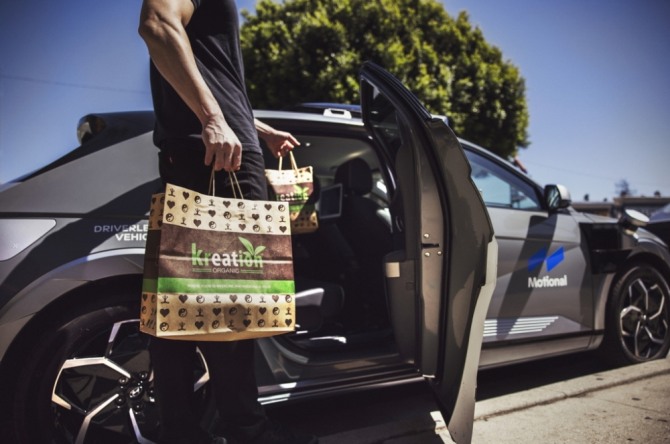 Hyundai Motor [005380]'s Level 5 self-driving car Ionic 5 will delivery foods in California, the U.S.
Motional, a joint venture between Hyundai Motor Group and the U.S. autonomous driving company Aptive, said on the 17th that it has has launched an autonomous food delivery service with Uber Eats in Santa Monica, California.
The Level 4 autonomous driving system can recognize and judge the driving situation, and even can handle the emergency by itself without driver's intervention. This is the first time that Motional's self-driving cars are used for food delivery services.
In December last year, Motional signed a partnership with Uber to target the self-driving delivery market.
Motional reinvented Ioniq 5 as a self-driving delivery vehicle, and conducted extensive testing in the Los Angeles area.
Uber Eats partner restaurants will receive notification when a self-driving delivery vehicle arrives, and load the food in specially designed backseats.
When the vehicle arrives at customers' home, customers can open the door and pick their foods up by using Uber Eats app.
Motional and Uber will conduct a joint analysis and research on technology integration, consumer demand, user convenience, and self-driving delivery features. Through the joint research, the two firms expect to inform the wide range of use cases of self-driving vehicles.
Motional and Uber have jointly developed a self-driving delivery car model, and will prepare future business starting with this pilot test.
Motional is founded in 2020 by Hyundai Motor Group and Active with a total of $4 billion in investment. It plans to launch a commercial robo taxi service in the U.S. next year with Lift, a car-sharing service provider.
by Global Economic Reporter Jung-hee Kim ; Translate by Gounee Yang