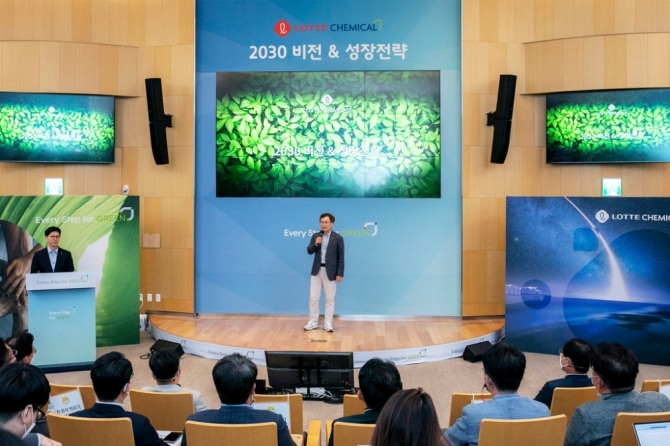 Lotte Chemical will invest 10 trillion won in hydrogen energy and battery material business by 2030 for future growth.
In particular, it aims to become a global battery material giant by expanding its investment in battery material business in the U.S., where the electric vehicle (EV) market is rapidly growing.
Lotte Chemical announced the "Lotte Chemical Vision and Growth Strategy 2030" at Lotte World Tower, Songpa-gu, Seoul, on the 19th, with executives, including Kim Kyo-hyun, vice chairman of Lotte Group's chemical business, attending.
Lotte Chemical's vision 2030 includes financial goal to post 50 trillion won in sales by 2030 and non-financial goal to achieve carbon reduction.
In order to achieve sales of 50 trillion won in 2030, Lotte Chemical plans to expand sales of its petrochemical business from 11 trillion won last year to 20 trillion won, and high value added specialty business from 7 trillion won to 18 trillion won.
It also presented a goal to achieve annual sales of 12 trillion won in eco-friendly businesses, including 5 trillion won in hydrogen energy, 5 trillion won in battery materials, and 2 trillion won in recycled and bio plastics.
By business, Lotte chemical will invest 4 trillion won in battery material business to achieve 5 trillion won by 2030.
Considering the rapidly growing U.S. battery market since the inauguration of the Joe Biden administration, it will set up the local subsidiary within the first half.
"Korean battery companies are investing to build battery plants in the U.S., but there are not many companies that can supply battery materials to these companies," Vice Chairman Kim said. "As battery materials should be supplied at least in 2024 or 2025, we are speeding up the business."
Lotte Chemical plans to inject 60% of the total battery material investment into the U.S. business. It will build a battery material plant nearby battery plants in the U.S. to stably supply materials to battery makers.
The company is also considering building production facilities for battery materials, including cathode foil and electrolytes.
"We will expand our business through various measures such as M&As, joint ventures, and collaboration with affiliates," said Lee Young-jun, head of the battery material business division. "At the same time, we will actively target the U.S. market, where imports dependency and profitability are expected to be high."
by Global Economic Reporter Jong-yeol Seo ; Translate by Gounee Yang