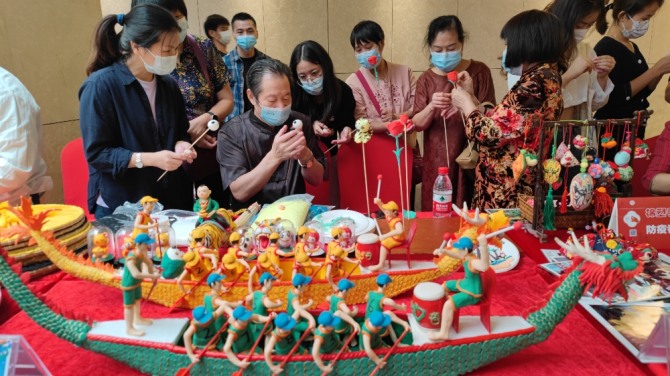 THE city's museums held hybrid activities Wednesday to celebrate this year's International Museum Day (IMD) themed "The Power of Museums."
IMD is an annual event established in 1977 by International Council of Museums.
Three new exhibitions opened yesterday morning at Shenzhen Museum's two divisions: an exhibition of bronzeware from the ancient Yunnan Dian Kingdom, a paleobiology and marine reptile specimen exhibition and a Guangdong gold-coated woodcarving exhibition. Many visitors were stunned by the exquisite carved items, rarely seen specimens and Yunnan relics. Some young visitors also joined an interactive quiz event to win gifts.
IMD 2022 focuses on museums' efforts to achieve sustainability, innovations in digitalization and accessibility, and community building through education. Museums not only help people understand the world, but are also important community gathering places. Nanshan Museum organized two trips to Nantou Ancient Town yesterday to help visitors learn about Nanshan history and culture.
Also, at Shenzhen Museum yesterday, local intangible cultural heritage craftspeople demonstrated their unique skills in dough sculpture, painting inside glass bottles, Hakka hat making and more. Collectors brought their cherished antiques for free expert appraisals.
In recent years, museums are experimenting with new approaches to visitor engagement. Yesterday, HQB Museum collaborated with primary schools in Shenzhen and Heyuan to visit HBQ Museum, Century Amber Museum and FIYTA World online and offline.
More activities will be held at the city's museums this month, such as lectures and children's events. Shenzhen Museum is also offering free audio content of the world's weirdest museums and trivia knowledge on the Himalaya app through Sunday.
According to the latest report issued by the Guangdong Provincial Department of Culture and Tourism, there are 59 museums in Shenzhen by the end of 2021, 18 of which are State-owned. Professionals that attended a forum at Shenzhen Museum yesterday agreed that the power of museums comes from collections, community engagement, the role of digital innovations and the value of museum education for lifelong learning.
By Shenzhen Daily reporter Cao Zhen