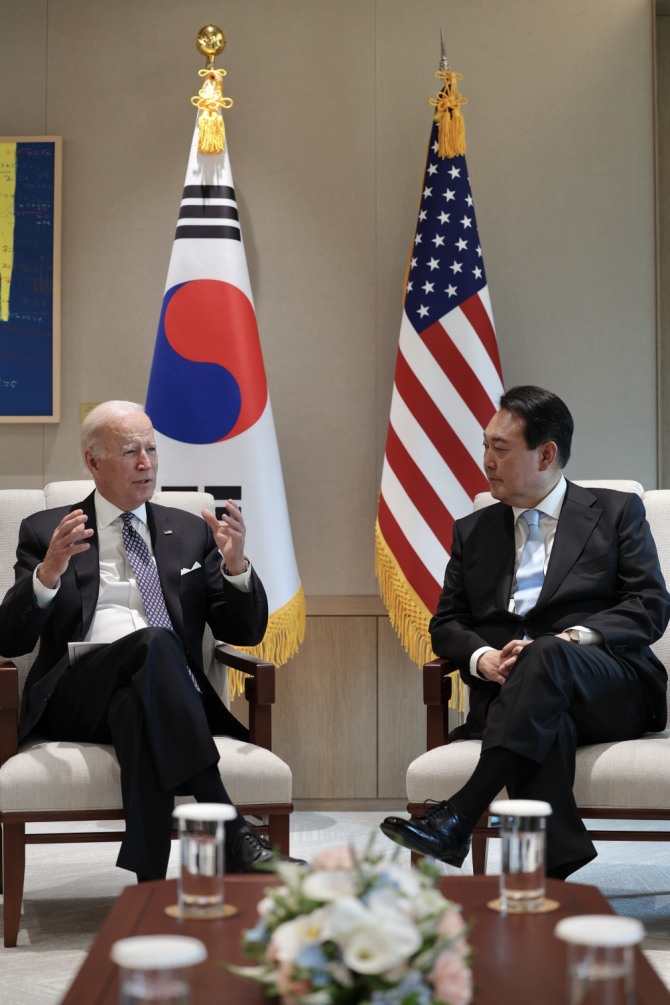 South Korean President Yoon Suk-yeol will meet the U.S President Joe Biden in Seoul on the 21th, and will discuss about recent issues such as North Korea's provocations, situation on the Korean Peninsula, economic security cooperation, and global trends.
As South Korea and the U.S. have previously agreed to stretch the bilateral cooperation, which has focused on North Korea and economic issues, to more various fields such as economic security, supply chain, and technology, the two are expected to have substantive discussions.
As South Korea and the U.S. announced before, the main agenda for the summit is North Korea's nuclear issues.
The two are expected to confirm their shared perception of the North Korea issues and issued joint statement reaffirming their strong deterrence against North Korea.
This could triggered North Korea to launch additional intercontinental ballistic missiles (ICBM) or conduct armed provocations such as nuclear tests during or shortly after President Biden's visit.
North Korea has continued provocations by launching 16 missiles, including ICBM, this year. The National Intelligence Service previously reported to the National Assembly that the North had completed all preparations for the nuclear test and were only waiting for the right "timing."
In this regard, the two countries are expected to come up countermeasures to respond to North Korean nuclear and missile tests.
In addition, the two will also discuss about detailed action plans, including resuming the EDSCG (Extended Deterrence Strategy and Consultation Group), deploying U.S. strategic assets, and conducting joint drills regularly.
The two are also expected to share opinions of North Korea's human rights issues and Covid-19 situation.
Economic security is also the main agenda for the summit talk.
The presidential office explained that the economic security alliance is "technology alliance" and "supply chain cooperation."
It means that the government aims to build cooperative relationship with the U.S. to create national interests in advanced technology fields, such as battery, chip, and artificial intelligence (AI), and global supply chain.
At the summit, nuclear energy items, including new nuclear energy technology such as small module reactor (SMR) and joint entry into the global nuclear energy market will be also discussed.
The two will also discuss about the regional cooperation in Indo-Pacific region and coordination for global issues in line with economic security.
President Yoon will officially announce Korea's participation in the Indo-Pacific Economic Framework (IPEF), which will be launched after President Biden's Korea-Japan trip.
As the U.S.-led IPEF, proposed by President Biden in October last year, aims to build a new supply chain excluding China and Russia, it is expected to affect relations with China and the U.S.
By Global Economic Reporter Mi-yeon Soh ; Translate by Gounee Yang