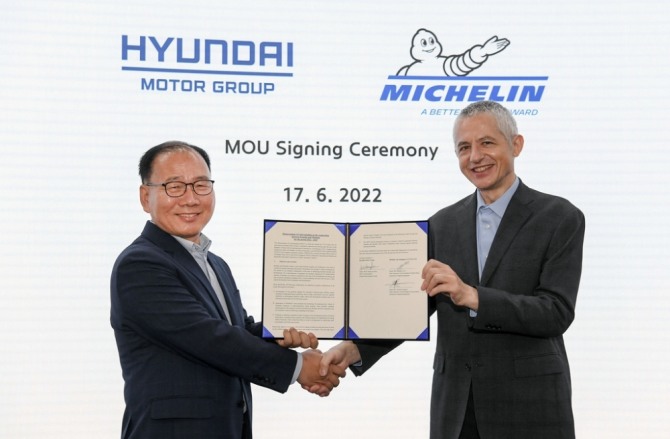 Hyundai Motor Group will work with Michelin Tire, a global tire manufacturer, to develop eco-friendly electric vehicle (EV) tires.
Hyundai Motor Group said on the 20th that it signed a MOU agreement with Michelin at its Namyang Institute in Hwaseong, Gyeonggi-do on the 17th to develop premium eco-friendly EV tires.
This partnership is a part of Hyundai Motor Group's "Smart Mobility Solution Provider" strategy, and the two companies have already cooperated for the past 5 years between November 2017 and June 2022. This second project will be carried out for the next 3 years.
Under the agreement, the two companies will jointly develop tires for premium EVs and eco-friendly tires to reduce carbon emissions. They will also build a tire monitoring system for advanced autonomous driving feature.
The premium EV tires to be developed by the two companies are expected to improve both durability and driving performance, which are particularly important to withstand high weight of EVs.
In addition, the two companies also plan to increase the proportion of eco-friendly materials for new tires from 20% to 50% based on weight.
In addition, they will conduct joint research to comprehensively monitor the tire wear, loads, and degree of road friction, and will use the data for the vehicle control system.
The research is expected to greatly improve the driving comfort for drivers by canceling the vibration and noise occurred when driving at high speed of EVs.
By Global Economic Reporter Jong-yeol Seo ; Translate by Gounee Yang