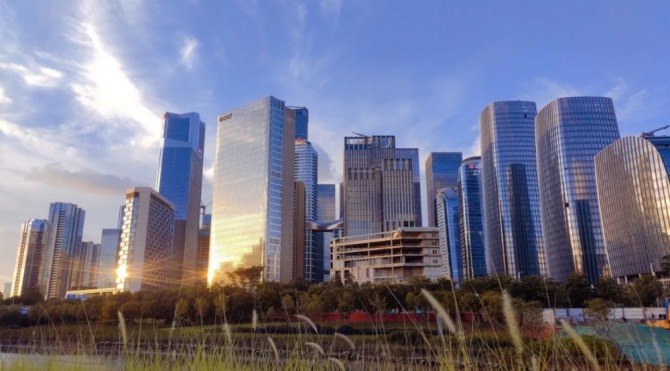 QIANHAI Service Group, a wholly owned subsidiary of Qianhai Authority, released version 2.0 of Shenzhen-Hong Kong Plus, a self-developed comprehensive service mobile application at a press conference Friday, aiming to provide better and smarter services for companies and talents in Qianhai.
Ji Kaifeng, general manager of Qianhai Smart Park Operation Management Co. Ltd., a subsidiary of Qianhai Service Group and developer of the application, said: "The Shenzhen-Hong Kong Plus platform applies advanced technologies such as the Internet of Things, cloud computing, 5G and digital twins to realize a number of smart services, including asset management, investment promotion, industrial service, property management, parking, catering, hotels and talent apartment approval."
Currently, the services are available at Qianhai Shenzhen-Hong Kong Youth Innovation and Entrepreneur Hub, Qianhai Comprehensive Bonded Zone, Qianhai International Talent Hub and U+ Talent Apartment.
The platform serves as an important portal for Hong Kong-funded enterprises and Hong Kong talents to learn about information and services in Qianhai and other matters related to their work and life.
A male user surnamed Wu said he can use the application to complete services such as visitor access authorization, property repair application, venue reservation, electronic bills inquiry and online payment. "In addition, we can also conveniently sign up for various entrepreneurial counseling activities, which saves us a lot of time and brings convenience to our daily work," he said.
At the press conference, Qianhai Smart Park Operation Management Co. Ltd. signed strategic cooperation agreements with the Beijing Institute of Architectural Design, China Unicom and AutoNavi. The three entities will utilize their respective advantages to assist the platform's continuous optimization and upgrading.
As of late May this year, over 30 projects had gone online on the platform.
by Shenzhen Daily reporter Chang Zhiping