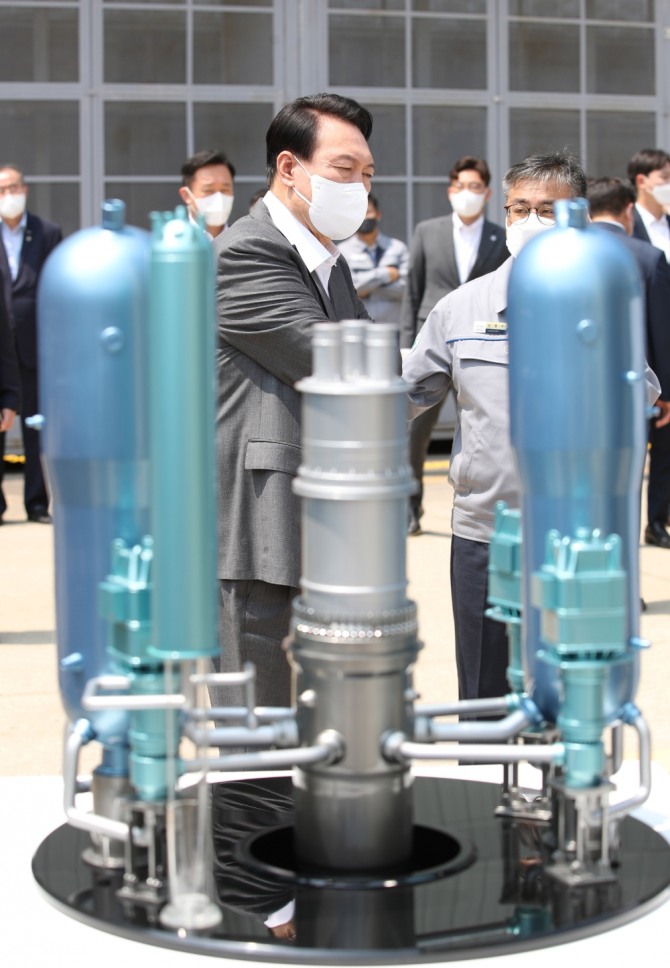 President Yoon Suk-yeol said on the 22nd, "The nuclear power industry, which needs to be further developed, has faced difficulties over the past years. We need to correct it now."
President Yoon visited the nuclear reactor factory owned by Doosan Enerbility in Changwon, and said at the meeting, "If we built the solid nuclear power plant ecosystem over the past 5 years, there would have been no competitors now."
President Yoon said, "Korea's nuclear power plant is recognized for for its world-class technology and stability. Our on-time on-budget capability is world's best competitiveness of our nuclear power plants."
"The competitiveness was not created in a day, but was built by nuclear power companies and partners for decades," said Yoon.
Prior to the meeting, Yoon toured Shin Hanul Unit 3 and 4 nuclear reactors that the construction has been suspended and Unit 6 reactor head facilities owned by Doosan Enerbility.
He also criticized the Moon's nuclear phase-out policy, saying, "I wonder how the officials who pushed for the nuclear phase-out policy made such decision even if they looked the industrial ecosystem and facilities here."
"It's very regrettable that the nuclear power industry is facing difficulties and we need to correct it now. The door to the nuclear power export market is widely open," said Yoon.
President Yoon said, "We have set the direction of the new policy. The government will scrap the nuclear phase-out policy and grow the industry, and we will also fully support companies to revitalize here Changwon, the nuclear power plant production hub, and factories rapidly."
Regarding the resumption of construction of Shin Hanul Unit 3 and 4, Yoon said, "We will follow the legal procedures and standards, but will carry out rapidly and efficiently by reducing construction time. The government will make all-out efforts to support nuclear power plant sales."
The meeting held on the day is a part of his commitment to support the nuclear industry and visit the site again made when he visited the small sized nuclear company Jinyoung TBX in April during the election.
In addition, it is more meaningful that he accompanied with ministers from Ministry of Trade, Industry and Energy and the Ministry of SMEs and Startups and officially announced that he will end of the nuclear phase-out policy and restore the nuclear industry.
By Global Economic Reporter Duck-hyeong Lee ; Translate by Gounee Yang