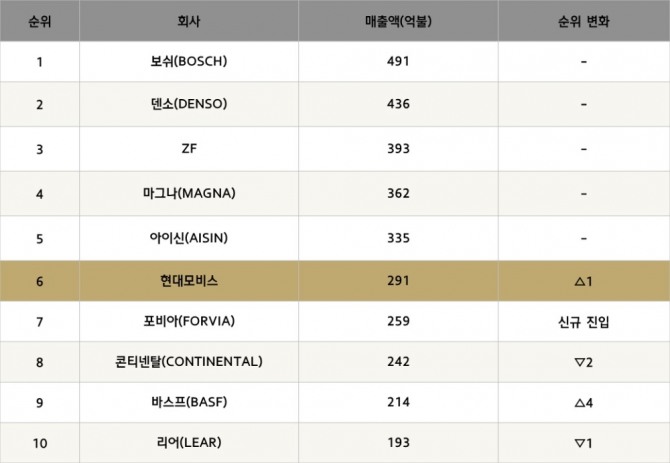 Hyundai Mobis has succeeded in regaining its sixth place in the global automotive parts market in 5 years by posting strong sales despite the automotive chip shortage and COVID-19 pandemic last year.
Hyundai Mobis announced on the 28th that it ranked 6th among the top 100 auto parts makers selected by the U.S. auto magazine Automotive News.
Automotive News selects and announces the top global parts makers based on their sales performance in the previous year.
Hyundai Mobis posted $29.1 billion (about 38 trillion won) in sales last year.
Since the ranking of Hyundai Mobis fall to 7th in 2017, it had remained in the 7th place for 5 years behind European, North American and Japanese companies.
However, its ranking has rose as global orders rapidly increased mainly for electric and core parts. Since entering the top 10 for the first time in 2011, Hyundai Mobis has been included in the top 10 for 12 consecutive years.
The top 10 global parts makers were same from the previous year. "Bosch" topped the least, followed by "Denso," "ZF," "Magna," and "Aisin."
"Forvia," a joint venture established by France's "Faurecia" and Germany's "Hella," ranked 7th after Hyundai Mobis. Germany's "Continental," which ranked 6th last year, fell two notches to 8th.
Five European companies, two North American and two Japanese companies were listed in the top 10 parts makers. Hyundai Mobis is the only Korean parts maker included in the list.
Among Korean companies, 10 companies, including Hyundai Mobis, were listed in the top 100 parts makers this year.
Hyundai Transys rose from 34th to 32nd, Hyundai Wia from 38th to 36th, and Hanon Systems from 39th to 37th. SK On newly entered the list, ranking 68th.
By Global Economic Reporter Jong-yeol Seo ; Translate by Gounee Yang