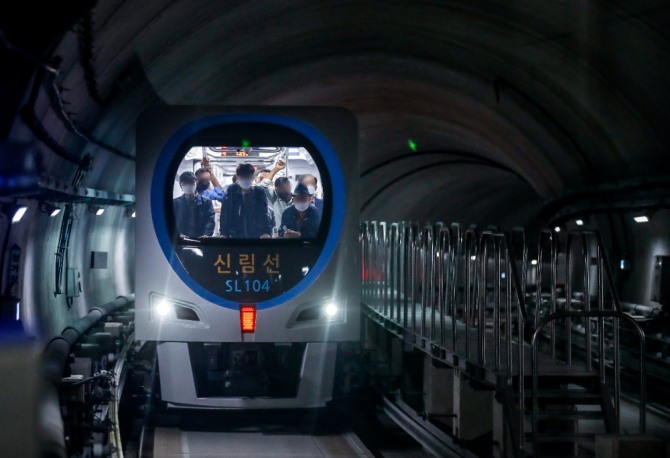 Three railway vehicle manufactures, Hyundai Rotem, Woojin Industrial System and Dawonsys, will be fined a total of 56.478 billion won for collusion, including deciding preferred bidder in advance bid for the railway vehicle ordered by the railway operators for several years.
The Fair Trade Commission (FTC) said on the 13th that it has decided to impose a fine of 56.478 billion won on Hyundai Rotem, Woojin Industrial System and Dawonsys, along with corrective action order, for violation for the Monopoly Regulation and Fair Trade Act. Fines imposed on Hyundai Rotem are 32.36 billion won, Woojin Industrial System are 14.794 billion won, and Dawonsys are 9.378 billion won.
According to the FTC, Hyundai Rotem and Woojin Industrial System decided the preferred bidder in advance for six railway vehicles ordered by railway operators, including KORAIL and Seoul Metro, from January 2013 to November 2016.
Hyundai Rotem tried to prevent competition with Woojin Industrial System in a bid for railway operating system installation ordered by the Gimpo Goldline in 2013. Woojin Industrial System, which is a parts supplier of Hyundai Rotem, agreed on the deal to stably supply electrical equipment and devices to Hyundai Rotem.
The two companies agreed on the collusion three times for Hyundai Rotem to win six bids for railway vehicles. Woojin Industrial System agreed that it will receive subcontracts related to the bidding project in return. After the collective action ended, competition between the three companies intensified as Dawonsys participated in the bid. Since the end of 2018, the three companies agreed to prevent low-priced orders to maximize profitability, and began to collude again in February 2019.
Among five bids ordered from February 2019 to December 2019, Woojin Industrial System agreed to take bids for new railway vehicle (336 cars) for Line 5 and 7, Dawonsys for EMU-150 train (208 cars), and Hyundai Rotem for other three bids in advance.
Cho Hong-sun, head of the FTC's illegal cartel investigation bureau, explained, "Fines were imposed due to collusion conducted over the years in the closed railway vehicle manufacturing market consisting of the three companies, Hyundai Rotem, Woojin Industrial System, and Dawonsys, and the transaction amount is also quite large." The FTC estimated that the three companies' sales posted illegally reach 2.4 trillion won. Cho said, "We expect the measures to restore the fair competition in the railway vehicle manufacturing market."
By Global Economic Reporter Hee-jin Ahn ; Translate by Gounee Yang