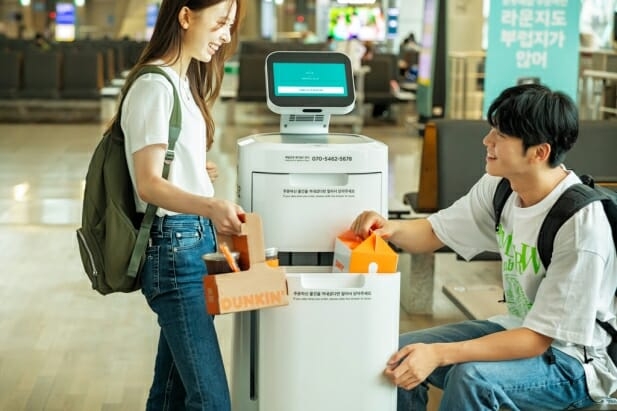 Woowa Brothers (BAEMIN) said on the 15th that it will launch a pilot service of indoor robot delivery at Incheon International Airport Terminal 1 from the 18th.
The pilot service will be carried out in 10 months since Woowa Brothers signed a business agreement with Incheon International Airport and Korea Robot Industry Promotion Agency of the Industry Ministry last year.
The robot delivery service was developed to deliver breads or beverages to customers at each gate before they board the plant. Customers can use the robot delivery service even at the gate 250m away from the store.
It will also provide an English page so that foreigners can use the service. Payment is available on Baemin app for Koreans, but foreigners can only use credit cards.
Service operating hours is from 9 a.m. to 5 p.m. on weekdays. Six robots will be deployed at the east and west gate passageways in the duty-free area.
Four stores, Baskin Robbins Incheon Airport Air Branch and Dunkin Incheon Airport 1 at the east gate, and Dunkin and Paris Baguette Incheon Airport Branch at the west gate, can be ordered.
Woowa Brothers plans to increase the number of stores and robots by negotiating with Incheon International Airport. As it is a pilot service, the store does not need to pay fees or delivery costs.
For the robot delivery, "Air-Dilly," a service robot developed by LG Electronics, will be used. The Air-Dilly robot is used as a delivery robot in hospitals and offices.
It has two drawer-type cargo spaces and can carry up to 17kg (5kg on upper drawer and 12kg on lower drawer). It is equipped with a 9.2-inch touch screen, and subscribes to insurance of up to 100 million won in preparation for accidents. LG Electronics is also supplying "Airstar", an information robot, at Incheon International Airport.
Kim Yo-seop, head of Woowa Brothers' robot delivery service department, "The robot delivery service at Incheon Airport is expected to provide convenience to passengers and increase sales for stores. We will open a new era of the delivery service using apps not only at Incheon Airport, but in various places and situations."
By Global Economic Reporter Hee-jin Ahn ; Translate by Gounee Yang