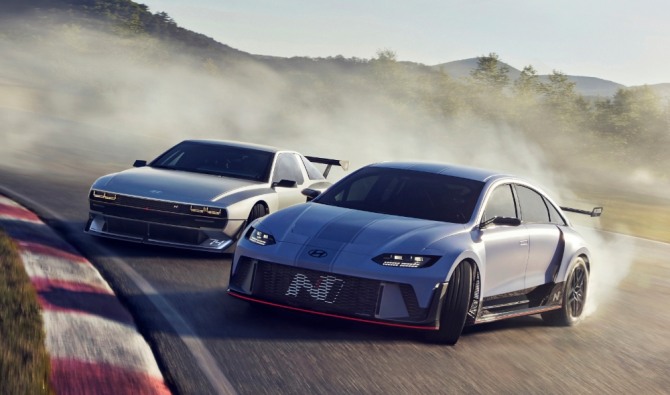 Starting with the launch of the first high-performance electric vehicle (EV) "Ioniq 5 N" next year, Hyundai Motor will speed up the electrification of its high-performance brand "N." It will target the high-performance car market by providing best driving experience in the era of electrification.
Hyundai Motor [005380] introduced the N brand's electrification vision and two high-performance electrified models on the 15th. Hyundai Motor said, "In addition to EV's characteristics such as improved acceleration and speed, we will continue to research and develop to provide dynamic driving performance. In terms of vehicle software, we are also conducting various researches on high-performance experiences such as sound and vibration. Ioniq 5 N, which will be released next year, will be the first model of N brand's electrification.
It also unveiled 'Rolling Lab' cars, which have N brand's electrification technologies, on this day. Rolling Lab cars are the vehicle for verification and tests before applying high-performance technologies inspired by motorsports to commercial models.
Rolling Lab car "RN22e" is N brand's high-performance EV based on E-GMP, Hyundai's dedicated EV platform. In order to maximize the fun of cornering, N brand has applied e-LSD (Electronic Limited Slip Differential) to N's commercial models. In addition to these features, RN22e has developed a torque vectoring technology using twin clutches to overcome EV's heavy weights and provide excited cornering experiences. It is also equipped with a 160kW front motor and a 270 kW rear motor to allow drivers to set the driving force as they want. Based on these technologies, Hyundai Motor expects to produce N brand's EV models that are not limited to vehicle body design in the future.
The second Rolling Lab car "N Vision 74" is based on the concept of high performance hydrogen vehicle unveiled at the launch of N brand. It was developed as a 'hybrid' system combining a battery and a hydrogen fuel cell. Hyundai Motor developed the battery and hydrogen fuel usage depending on driving environment to improve the cooling performance. It's design was inspired by Hyundai's concept car "Pony Coupe" unveiled in 1974.
Thomas Schemera, Head of the Hyundai Motor's Customer Experience Division, said, "The N Vision 74 and RN22e play a key role in the development of Hyundai Motor's product lineup. Hyundai Motor and our N brand will challenge the future with a unique and strategic approach."
By Global Economic Reporter Jung-hee Kim ; Translate by Gounee Yang