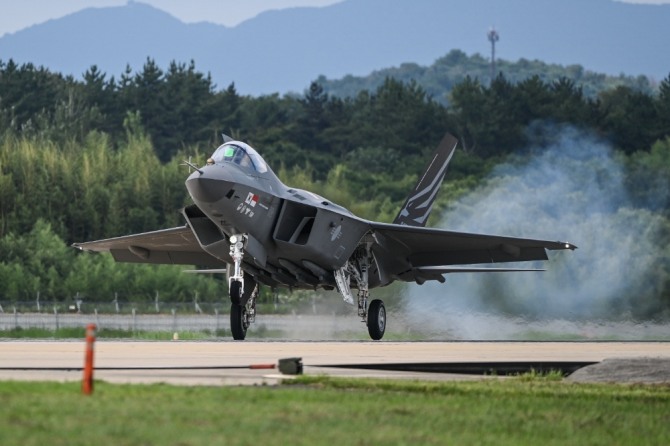 The KF-21 Boramae, a Korean new fighter jet, will start its first flight test on the 19th.
According to military sources on the 19th, a KF-21 flight testing will be conducted at the Air Force's 3rd Flying Training Wing in Sacheon, where the headquarters of the KF-21 developer Korea Aerospace Industries (KAI) is located.
The flight test was initially planned on the morning of the 19th, but it was reportedly arranged in consideration of weather and visibility.
The Defense Acquisition Program Administration (DAPA) said the weather in Sacheon was cloudy earlier in the day but the afternoon weather is expected to be clear.
The DAPA explained that the test flight result cannot be confirmed until the moment the KF-21 flies as it is the first flight test, and the result will be also announced later.
The KF-21 will have first flight with four air-to-air METEOR missiles. The other equipment such as infrared IRST (Infra-Red Search and Track) will not be reportedly equipped.
The KF-21 will take the first flight for 30-40 minutes to check basic fighter jet performance. If the flight test is successful completed, Korea will become the eighth country that developed a supersonic flight.
By Global Economic Reporter Sang-wook Lee ; Translate by Gounee Yang