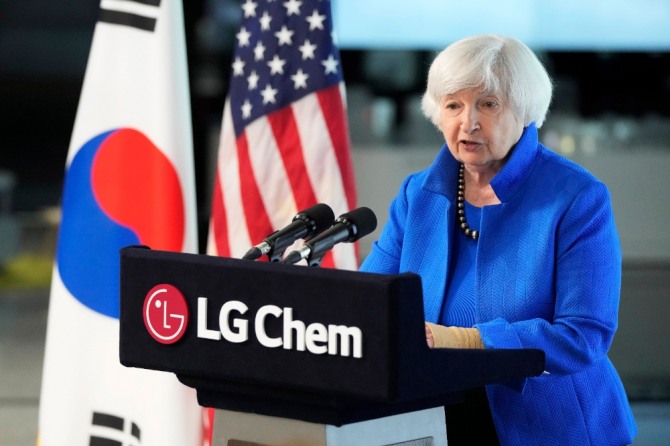 U.S. Treasury Secretary Janet Yellen visited LG Science Park in Seoul on the 19th.
LG Science Park is a LG Group's R&D hub where eight LG affiliates' R&D centers are located.
Secretary Yellen arrived at LG Chem's Magok R&D campus at LG Science Park at 9:25 a.m. on this day.
After taking commemorative photos with LG Chem Vice Chairman Shin Hak-chul, Yellen toured the Sustainability Gallery on the ground floor for about 20 minutes.
The Sustainability Gallery is an exhibition space related to renewable energy and electric vehicle (EV) batteries, and Vice Chairman Shin explained the gallery to Yellen in English.
Yellen asked Shin about how long it takes to charge an EV battery, and how long an EV can drive on one charge. Yellen also asked how long batteries can be used if they are recycled.
After touring the gallery, Yellen held a private meeting with Shin and other LG officials.
Yellen did not answer reporters' questions about whether she plans to discuss currency swaps with the South Korean government or whether she will discuss sanctions against North Korea. Yellen also did not comment on the reasons why she visited LG Chem.
At the private meeting, Vice Chairman Shin is expected to introduce LG Chem's next-generation battery technology to Yellen and discussed ways to cooperate build a battery supply chain and cooperate between private sectors of the two countries.
LG is the only company that Yellen visited during her visit.
LG Chem, which has a global technological capability in battery materials, is recently strengthening the investment in the U.S.
By Global Economic Reporter Myeong0-seok Chae ; Translate by Gounee Yang