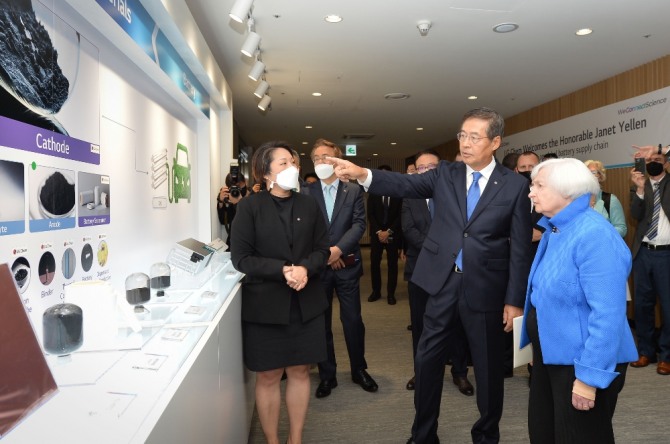 As the U.S. Treasury Secretary Janet Yellen visited LG Chem following the U.S. President Joe Biden's visit to Samsung Electronics, the Korea-U.S. Battery Alliance is expected to be further strengthened. Attention is focusing on whether Samsung Electronics and LG Chem' stocks, which has been largely sold by foreign investors recently, will increase again.
According to financial investment firms on the 20th, investment in Korean battery industry is expected to increase as the U.S. president and treasury secretary visited domestic battery companies. In particular, Samsung Electronics and LG Chem stock prices have increased after Yellen's visit.
At 10:33 a.m. on the 20th, LG Chem stock was traded at 541,000 won, up 3.84%. Samsung Electronics stock was traded at 61,000 won, up 0.16%. It also increased by 1.9% to 62,100 won during the day.
On the previous day, Yellen visited LG Chem as her first schedule during her Korea trip. President Biden also previously visited Samsung Electronics' Pyeongtaek chip plant in May. It is analyzed as the U.S. government's strategy to strengthen the Korea-U.S. battery supply chain alliance.
On the 19th, Yellen visited LG Chem's R&D hub LG Science Park, and had a private meeting with LG Chem officials including vice chairman Shin Hak-cheol. The two reportedly discussed ways to cooperate on building a material supply chain.
Yellen mentioned 'friendshoring,' and explained that it is a method to manage economic risks and increase trade with partners by strengthening relations and diversifying supply chains.
She also said, "The U.S. can't solve supply chain vulnerabilities alone, so we should try to achieve stronger economic growth by introducing friendshoring between allies. Through the alliance and partnership, we will continue to make efforts to maintain supply chain order."
The investment industry sources expect the visits of the U.S. officials to increase stock prices of Korean battery makers again.
Vice Chairman Shin also said in a welcome speech, "LG Chem will invest a total of 6 trillion won in battery materials by 2025 to build various product portfolios such as cathode materials, separators, and carbon nanotubes. Based on relationships with the U.S. automobile manufacturers, we will continue to develop out vision to introduce new innovations to the U.S. electric vehicle market."
LG Chem stock prices started to decrease after hitting the highest of 773,000 won on January 12 this year. Although it succeeded in rebounding after hitting the lowest of 437,000 won on March 16, but have still remained at low level. As LG Chem expects its investment in the U.S. battery supply chain to exceed $11 billion (about 14.4 trillion won) by 2025, attention is being paid to whether stock prices will rebound after the U.S. investment.
Samsung Electronics posted all-time high performance despite the global economic recession caused by the U.S. fiscal austerity, but its stock prices have continued to hit the lowest. After hitting 75,800 won on February 10th, Samsung Electronics stock prices hit the lowest of 55,700 won on July 4.
Even Samsung Electronics' second-quarter performance was the highest level similar with the performance in the semiconductor boom between 2017 and 2018 despite investment firms' negative predictions. It posted 77 trillion won in provisional sales in the second quarter, and it is the second time that it achieved sales of more then 77 trillion won following the first quarter of this year.
Since the 7th, except for the 13th and 19th, Samsung Electronics' foreign investors have turned to net purchases. Considering that Samsung Electronics' stock price has decreased due to net sales of foreign investors, the Korea-US battery alliance is expected to increase net purchases of foreign investors.
By Global Economic Reporter Jun-beom Jeong ; Translate by Gounee Yang