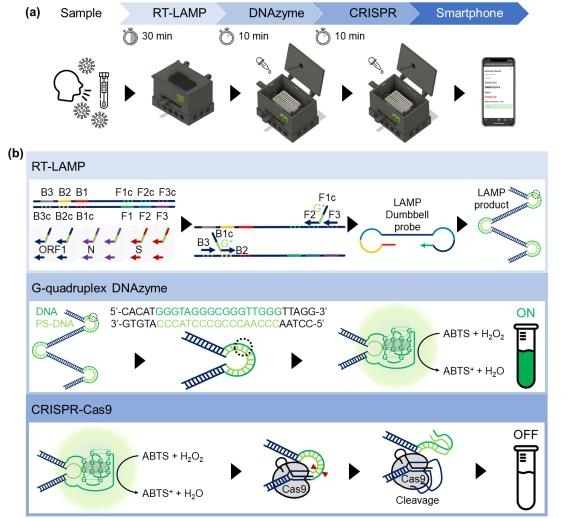 The Korea Research Institute of Bioscience and Bio Technology (KRIBB) said on the 20th that it has developed a biosensor that can accurately detect Covid-19 within an hour through a smartphone app.
A research team led by Dr. Kang Tae-joon at the BioNanotechnology Research Center successfully detected target genes rapidly and accurately without extracting or amplifying genes by combining loop-mediated isothermal amplification method and CRISPR technology, so-called genetic scissors.
Based on the newly developed biosensor, the research team manufactured small device using 3D printing technology to detect Covid-19 infection within an hour.
The research team also developed a machine learning-based smartphone app to quickly and easily analyze the virus concentration. It can detect a small amount of viruses, allowing diagnosing asymptomatic and mild patients.
The research team said they confirmed 100% sensitivity and specificity in the test conducted on Covid-19 patients.
By Global Economic Reporter Do-yeol Lee ; Translate by Gounee Yang