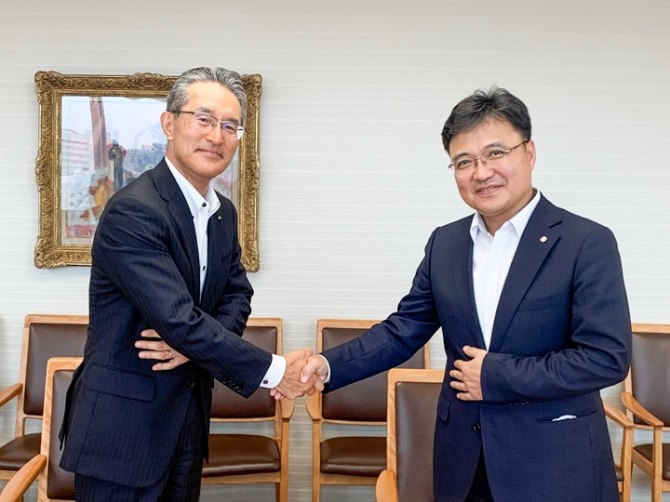 Lotte Chemical has signed a partnership with Japan's trading company to secure hydrogen and ammonia supply stability in East Asia.
Lotte Chemical said on the 22nd that it has signed a MOU agreement for comprehensive cooperation in the hydrogen and ammonia business with ITOCHU Corporation, which is based in Tokyo, Japan on the 21st.
The two companies have agreed to cooperate in hydrogen and ammonia, which are considered as future energy for carbon neutralization. They will cooperate to boost ammonia trading business, utilize ammonia infrastructure in Korean and Japanese markets, develop the hydrogen market, and establish clean ammonia production facilities.
Ammonia is an efficient hydrogen carrier that efficiently transports and stores hydrogen at low cost. It also does not emit carbon dioxide (CO₂), effectively reducing greenhouse gas emissions at thermal power plants or ships.
Hwang Jin-gu, head of Lotte Chemical's Hydrogen Energy Business Division, said, "Our ammonia distribution and utilization infrastructure, and business experience are expected to create a meaningful synergy such as carbon neutrality with ITOCHU Corporation's bunkering business know-how and global network."
Lotte Chemical aims to invest 6 trillion won to produce 1.2 million tons of clean hydrogen by 2030, and plans to achieve 5 trillion won in sales by distributing and utilizing it. In particular, 600,000 out of the total of 1.2 million tons of hydrogen will be supplied for power generation, 450,000 tons for fuel cells and hydrogen gas turbines, and 150,000 tons for transportation.
By Global Economic Reporter Jin-joo Jeong ; Translate by Gounee Yang