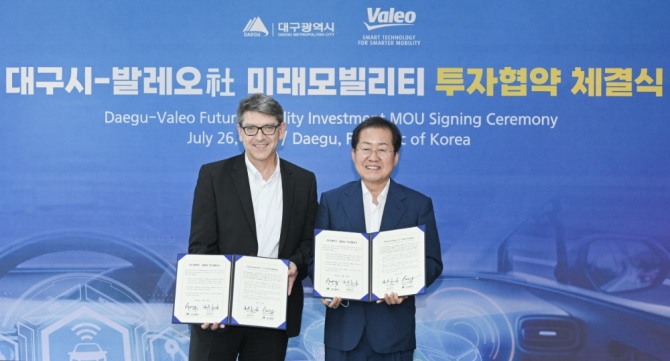 Valeo, the world's 8th-largest auto parts supplier based in France, will set up an autonomous driving parts manufacturing plant in Daegu.
The Daegu city government said on the 26th that it will sign an investment agreement worth $56 million (about 72.8 billion won) with Valeo.
Valeo plans to build a manufacturing factory that produces ADAS (Advanced Driver Assistance System) parts such as self-driving cognitive and steering sensors in Daegu National Industrial Complex with the aim of starting mass-production in 2024.
The Daegu city government said, "Valeo has decided to invest in Daegu considering our nation's best autonomous driving vehicle demonstration and R&D infrastructure, scalability and accessibility that can expand to related industries such as robots, artificial intelligence (AI) and big data, and stable labor-management environment."
Valeo, founded in France in 1923, is the world's 8th-largest auto parts manufacturer that has 183 manufacturing plants, 64 R&D centers, and 16 distribution networks.
By Global Economic Reporter Dae-min Jeong ; Translate by Gounee Yang