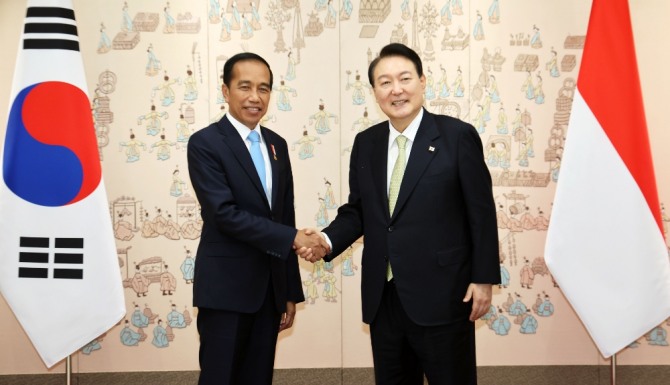 Indonesian President Joko Widodo, who is currently visiting to Korea, met with Korean business leaders Thursday to discuss investment in Indonesia and cooperation.
According to the business community, President Jokowi attended a business round table held at Lotte Hotel in Jung-gu, Seoul earlier in the day.
At the meeting, CJ Chairman Sohn Kyung-sik, LS Group Chairman Koo Ja-eun, Samsung Electronics President Roh Tae-moon, LG Vice Chairman Kwon Bong-seok, LX Group CEO Roh Jin-seo, and Lotte Chemical Vice Chairman Kim Kyo-hyun attended.
CEOs of 10 major Korean companies, including POSCO Holdings, TKG, GS E&C and KCC Glass, also attended.
At the meeting, President Widodo and business officials discussed investment in Indonesia and ways to cooperate between the two countries.
An industry source said, "Officials from major companies that are doing business related Indonesia were reportedly invited."
In fact, POSCO signed a MOU agreement with the Indonesian government and Indonesian state-run steel company Krakatau Steel to expand its steel production capacity and participate in Indonesia's new capital construction project.
POSCO and Krakatau Steel will jointly invest $3.5 billion over the next 5 years to build the second furnace and cold rolling facility of Krakatau POSCO, which was established in 2014.
POSCO will also participate in Indonesia's new capital construction project.
POSCO Group's affiliates such as POSCO E&C, which participated in the development of Songdo International City, are expected to participate.
LG Consortium, which consists of LG Energy Solution [373220], LG Chem[051910], LX International [001120], POSCO Holdings, and Huayou, is also currently carrying out the large-scale project worth 11 trillion won to build an electric vehicle (EV) value chain in Indonesia.
Earlier in April this year, LG Consortium signed a framework agreement with Indonesia's nickel mining state-run company Antam and Indonesian battery investment firm IBC for EV value chain investment.
Indonesia is the world's largest producer and supplier of nickel, a core material for EV batteries.
By Global Economic Reporter Myeong-seock Chae ; Translate by Gounee Yang