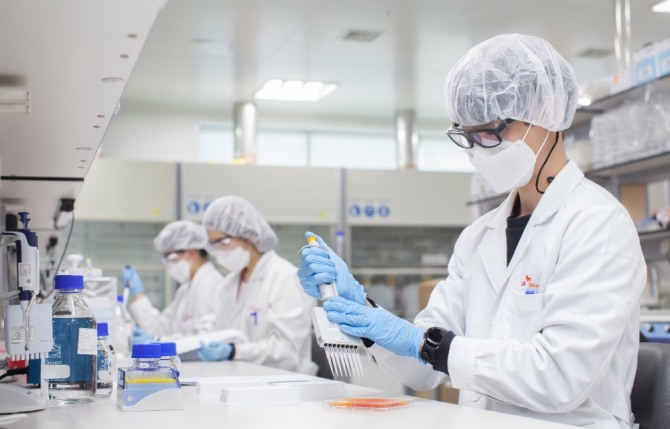 SK Bioscience [302440] announced Friday that it has applied for a conditional medicine approval (CMA) for Korea's first Covid-19 vaccine "SKYCovione (GBP510)" to the Medicines and Healthcare products Regulatory Agency.
SK Bioscience has steadily submitted the safety and efficacy data of SKYCovione to MHRA since March. It has officially completed the CMA application after results of the recent phase 3 clinical trial came out.
According to the company, SKYCovione was confirmed its excellent immunogenicity and safety in phase 3 global clinical trials of more than 4,000 adults.
SK Bioscience plans to apply for CMAs for this vaccine to the European Medicines Agency (EMA) and for the emergency use listing of the World Health Organization (WHO).
In addition, it is currently conducting additional clinical trials, including comparative trials with a same kind of booster dose and different one. It also plans to develop a combo vaccine that can prevent the flu and Covid-19 viruses.
SK Bioscience president Ahn Jae-yong said, "Through the CMA application, SK Bioscience will be able to supply domestically-developed Covid-19 vaccines, which have excellent safety and immunogenicity, to the global Covid-19 vaccine market."
By Global Economic Reporter Do-yeol Lee ; Translate by Gounee Yang