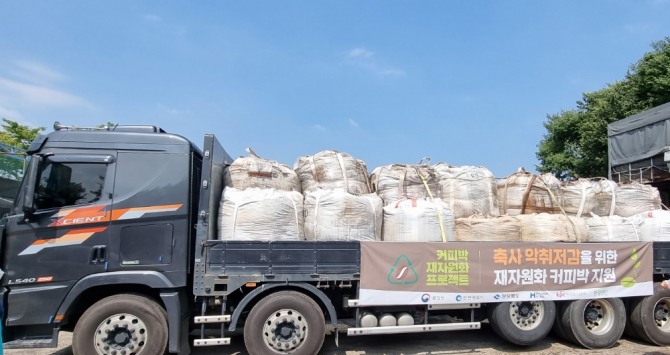 Hyundai Steel's Coffeebak Recycling Project, which is being carried out as a part of its eco-friendly social contribution project, has achieved another result.
Hyundai Steel and Incheon Yeonsu Self-Sufficiency Center said Tuesday that they signed an MOU to support research to reduce the odor from livestock buildings. Under the MOU, Hyundai Steel will send coffee wastes collected from Incheon last month to the Gyeongsangbuk-do Government Public Institute of Health & Environment.
According to a study by the institute, applying coffee wastes treated with microorganisms to livestock buildings can reduce the odor by up to 95%.
About 150,000 tons of coffee beans are imported annually, of which only 0.2% are used to extract coffee, and the remaining 99.8% are reclaimed or incinerated as household wastes.
However, with the recent studies on various uses of coffee waste, it is designated as a circulating resource by the Ministry of Environment in March.
In particular, it is expected to dramatically reduce complaints about odor from livestock buildings in narrow and dense rural environments.
The Gyeongbuk-do Institute, which required a large amount of coffee wastes for field demonstration research, will speed up follow-up studies by receiving coffee wastes from Hyundai Steel and Incheon City.
In addition, Hyundai Steel said it will recruit excellent coffee waste recycling companies by August 12 with the Korea Productivity Center and Korea Green Foundation to carry out more various coffee waste recycling projects.
An official from Hyundai Steel said, "Coffee wastes were just a household waste, but now it is recognized as a new resource. Based on the identity of Hyundai Steel, a representative resource recycling company, we will continue to contribute to our society through various eco-friendly projects."
By Global Economic Reporter Mi-yeon Soh ; Translate by Gounee Yang