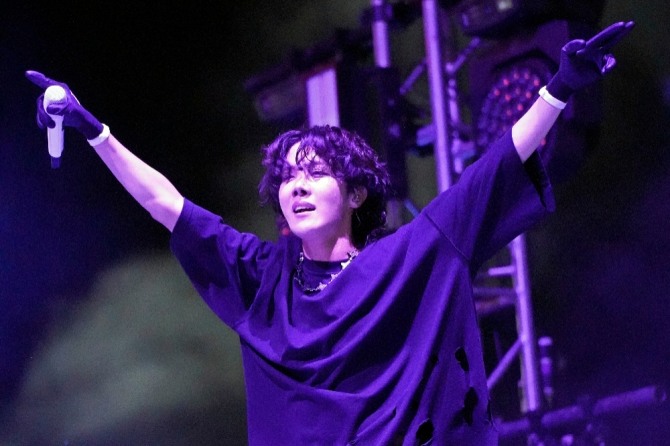 "J-Hope proved that his ability to conquer the stage without BTS."
After BTS member J-Hope's solo performance as a headliner at the U.S. famous music festival "2022 Lollapalooza" held in Chicago, the U.S., he has been receiving good reviews from local media.
The Sun-Times, one of Chicago's top two daily newspapers, reviewed Lollapalooza on the 1st and said, "K-pop star J-Hope showed his unique sound with the support of American singer Becky G and live band. BTS fandom ARMY from Chicago and all over the world stood with J-Hope and his solo debut stage."
It also mentioned that J-Hope's fans lined up from 7 a.m. to get front seats for his performance, which started at 9 p.m., and the festival also allowed J-Hope to greet his fans 10 minutes earlier.
The performance hour was an hour from 9 p.m, but thereforere, J-Hope could have more time to perform.
The Sun-Times said there was a steady crowd on the other side of the park for neo-punk's legend Green Day's finale too, but J-Hope's stage was completely lit for him. Lots of his fans brought BTS official light "ARMY Balm" and chanted his name.
It said, "J-Hope poured his heart into this performance too, commanding the stage and the audience with complete ownership in his trademark vocal delivery and choreography, even without the support of BTS members. He's ready to look toward a bright new future for himself."
Music media "Rolling Stone" said, "J-Hope made his first global performance with his solo debut songs at Lollapalooza, and became the first South Korean artist to headline a major U.S. music festival."
Another music media "Consequence of Sound" also commented that J-Hope kicks off a new era for BTS with his successful solo debut.
By Global Economic Reporter Da-jeong Kim ; Translate by Gounee Yang