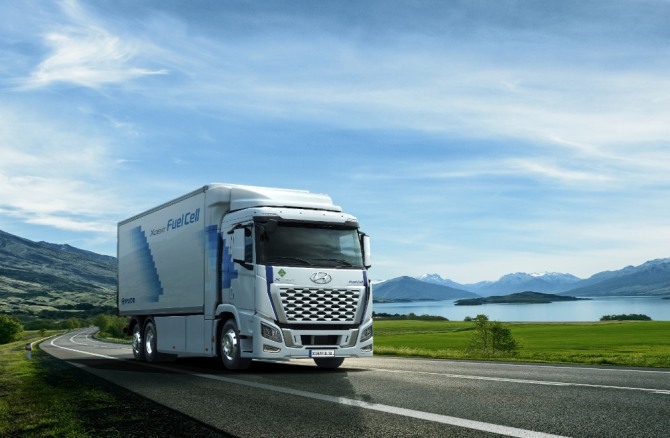 Hyundai Motor's hydrogen-fuel cell electric truck will be exported to Germany, Europe's largest commercial vehicle market.
Hyundai Motor said Tuesday that it has recently agreed to supply 27 XCIENT Fuel Cell electric trucks to 7 German companies in logistics and manufacturing fields. It is the second export of hydrogen electric trucks to Europe after supplying 47 units to 23 Swiss companies from 2020 to June this year.
The XCIENT hydrogen electric truck is a large cargo truck with a total weight of 42. It is equipped with a 180kW battery system consisting of two hydrogen fuel cells and a motor with a maximum power of 350kW. The driving range is 400km on one charge.
The supply contract is in accordance with the German Federal Ministry of Digital Transport (BMDV)'s policy to support eco-friendly commercial vehicles, and these seven companies applied for subsidies to BMDV for Hyundai's XCIENT electric trucks and obtained a final approval.
Recently, the German government have expanded the distribution of eco-friendly commercial vehicles and provided subsidies to as eco-friendly commercial vehicle buyers and charging stations.
In line with the German government's policy, Hyundai Motor established HHMG (Hyundai Hydrogen Mobility Germany GmbH), a hydrogen commercial vehicle sales unit, in April.
With the supply of XCIENT trucks this time, Hyundai Motor plans to actively target the German hydrogen commercial vehicle market.
It aims to expand the hydrogen vehicle ecosystem in Germany by strengthening promotional activities for various operators based on HHMG sales unit and establishing a service network.
It will also expand the supply of XCIENT trucks to other countries in Europe, including Austria, Denmark, France, and the Netherlands.

By Global Economic Reporter Jung-hee Kim ; Translate by Gounee Yang