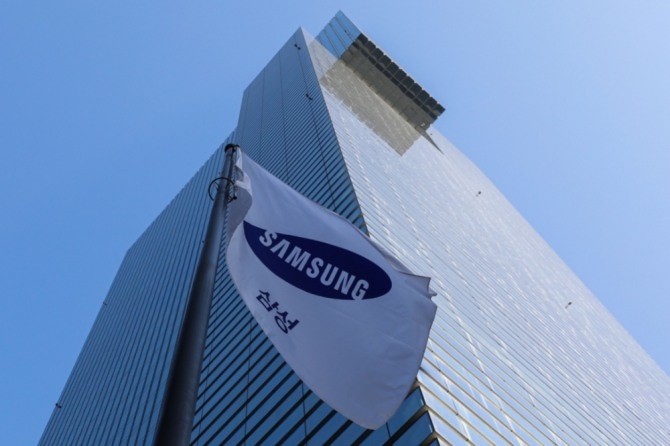 Taiwan's TSMC, the world's No. 1 foundry company, is expected to start mass-production of 3nm chips next month. It has been only 3 months since Samsung Electronics successfully started the mass-production of 3nm chips for the first time in the world in late June.
The two companies have been fiercely competing in the advanced semiconductor market, and the competition is expected to more intensify as TSMC will produce 3nm chips soon. Industry sources expect that TSMC, which has an overwhelming share in the foundry market, to be more advantageous. However, as Samsung Electronics beat TSMC and applied advanced 3nm process technology first, attention is being paid to this new semiconductor competition.
According to industry sources and Taiwanese media on the 23rd, TSMC said it will start mass-production of 3nm chips next month. Apple will be first to receive 3nm chips from TSMC. There are some predictions that TSMC's 3nm chip production schedule may be disrupted as Intel postponed the release date of its advanced CPU products. It was believed as an opportunity for Samsung Electronics, which started mass-production of 3nm chips first, to expand its share. However, despite Intel's order cancellation, as 3nm chips designed by Apple will be produced within this year, there will be significant difference between the two companies.
Industry sources predicted that TSMC will lead the 3nm chip market.
According to Taiwanese market research firm TrendForce, TSMC's share in the foundry market in the first quarter of this year was 53.6%, far exceeding Samsung Electronics' share of 16.3%. In terms of sales, TSMC posted $17.529 billion in sales, about 3 times larger than Samsung Electronics foundry division's $5.328 billion in sales. As foundry is the order-taking business, the market share shows the company's competitiveness. Considering this, TSMC is currently leading the overall foundry market. According to Taiwanese local media, TSMC reportedly secured global customers, including Qualcomm, MediaTek, NVIDIA, Broadcom, and AMD as well as Apple and Intel.
However, Samsung Electronics is also rapidly growing in the foundry market.
Although TSMC will start 3nm chip production in just 3 months after Samsung Electronics succeeded in producing, Samsung has a new advanced technology called Gate All Around (GAA), which is an advanced transistor structure.
This technology was developed to overcome the current efficiency problem of the existing FinFET structure. The smaller the size of the semiconductor, the more difficult it is to control the current flow. Samsung Electronics' GAA technology has changed its structure to allow sufficient current to flow by expanding the chip's channel area from 3 to 4.
Technically, Samsung Electronic' chips will have higher performance than TSMC's. Samsung Electronics' 3nm GAA process reduced power consumption by 45% and chip area by 16%, and improved performance by 23% compared to existing 5-nano FinFET process. According to industry sources, TSMC's 3nm FinFET process can reportedly reduce power consumption by 25-30% and improve the performance by 10-15%. In addition, Samsung Electronics' Gen 2 GAA chips, which are planned to be produced in 2024, can reduce power consumption by 50% and chip area by 35%, and improved the performance by 30%. TSMC plans to change its transistor structure to GAA for 2nm process in 2026. Samsung Electronics aims to secure a technology super gap by improving GAA technology.
Apple has no choice but to give orders to TSMC. It is because Apple is competing with Samsung Electronics in electronic device markets such as smartphone and laptop, so it is concerned about technology leakage. Industry sources explained Apple expects TSMC to lower the price through competition with Samsung Electronics.
Samsung Electronics plans to secure customers with GAA technology. Samsung Electronics foundry division had about 100 customers last year, and it plans to secure more than 300 customers by 2026.
Choi Si-young, president of Samsung Electronics' foundry division, said in a conference call last month, "The Gen 2 3nm process is proceeding as planned with the goal of starting mass-production in 2024. In particular, we have already secured several large customers in mobile applications."
Samsung also explained, "As we are still discussing orders with high-performance computing (HPC) and mobile companies, customers will further expand." Starting with San Jose on October 3, Samsung Electronics will hold the "Samsung Foundry Forum 2022" in Munich, Germany (Sep. 7), Tokyo, Japan (Sep. 18), Korea (Sep. 20), and China (Sep. 21-31). At the event, Samsung Electronics will introduce its latest semiconductor technology to customers. The forum will be held as offline event for the first time in 3 years, and Samsung will introduce the GAA-based 3nm process to customers.
By Global Economic Reporter Jong-yeol Seo ; Translate by Gounee Yang