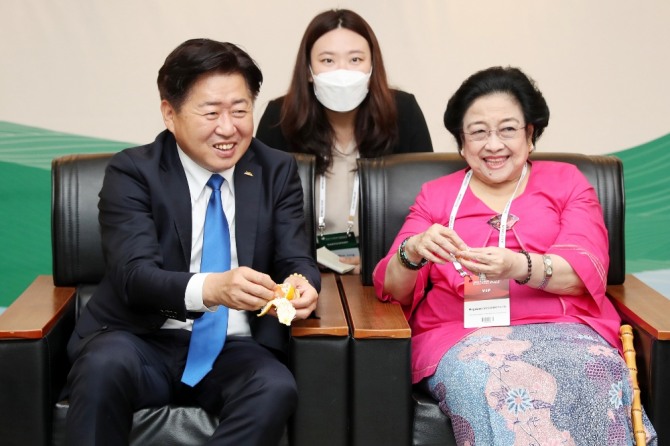 Jeju Island and Indonesian governments have decided to engage in economic cooperation by opening direct flights.
Jeju Governor Oh Young-hoon met with former Indonesian President Megawati Sukarnoputri and other officials at the Jeju International Convention Center on the 15th, the second day of the 17th Jeju Forum, and promoted the excellence of Jeju agricultural and marine products and proposed to expand exchanges by opening direct flights between Jeju and Indonesia.
At the meeting, North Sulawesi Governor Olly Dondokambey and Indonesian Ambassador to South Korea Gandi Sulistiyanto also attended.
Governor Oh said, "I heard that Jeju agricultural products such as tangerines and kiwis are receiving great attention in the Indonesian market," and asked, "I hope the Indonesian government will support exports of high-quality Jeju agricultural products to Indonesia."
Governor Oh also said, "The Jeju government will fully support to open direct flights between Indonesia and Jeju."
In response, Indonesian Ambassador to Korea Gandhi Sulistiyanto said, "As direct flights are expected to be opened soon, we hope that exchanges will expand through the transport routes connecting major ports."
Former President Megawati said, "Indonesian agricultural products such as coconut, banana, and mango are also very popular in the world. We hope to discuss further cooperation to exchange agricultural products produced in the two countries."
By Global Economic Reporter Jin-joo Jeong ; Translate by Gounee Yang