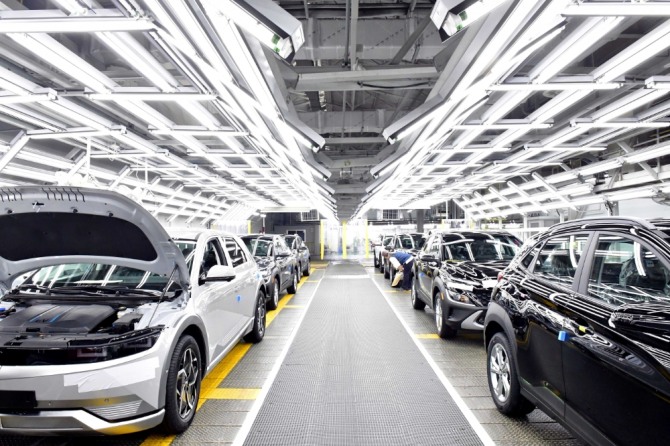 South Korea's automobile production, exports, and domestic sales increased simultaneously in August for the first time in a year and 7 months.
Automobile exports exceeded $4 billion, hitting all-time August high. In particular, both eco-friendly car exports and domestic sales posted a record high in August.
Until last month, electric vehicle (EV) exports to the U.S. surged more than 250%. Hyundai Motor and Kia's share also exceeded 10% in the U.S. market.
Domestic sales of EVs and hydrogen EVs also surpassed 100,000 units until August, four months earlier than last year.
According to the "Automobile Industry Trends in August" report released by the industry ministry on the 16th, automobile export volume was 168,155 units last month, up 29.1% on-year.
The total amount of automobile exports increased 35.9% to $4.12 billion, hitting a record high.
Despite falling demand for automobiles due to the global economic slowdown, export volume increased the most this year with the base effect of last year and strong exports of eco-friendly cars. However, it decreased by 24.5% from the previous month, which was the highest in the year.
Exports to North America, a major export market, rose 66.8% to $2.029 billion, contributing to the record high August performance.
Production also increased 21.0% to 284,361 units.
This is due to the base effect of last year and eased parts supply shortages. In August last year, South Korea suffered from the automotive chip shortage due to the COVID-19 pandemic in Southeast Asia, including Malaysia.
Production has continued to rise for 4 consecutive months since May, and this is the first time in 3 years and 8 months.
Production of all five automobile manufacturers increased double digits. Hyundai Motor's production increased 17.1% to 124,426 units, and Kia also rose 15.5% to 111,853 units.
Production of GM Korea increased 43.3% to 23,386 units, Renault Korea 57.1% to 15,782 units, and SsangYong 62.7% to 11,176 units.
Domestic sales volume was 131,638 units, up 1.0% on-year. It has turned to an increase in 19 months since February last year.
By Global Economic Reporter Yong-seok Jang ; Translate by Gounee Yang